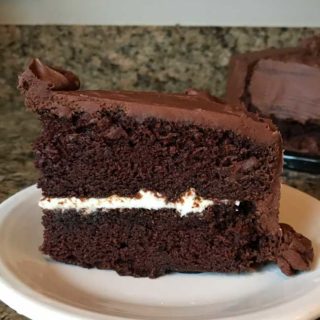 Author: Cookie Madness
Prep time: 30 mins
Cook time: 33 mins
Total time: 1 hour 3 mins
Sandy's Chocolate Cake is a rich three layer sour cream chocolate cake with a sour cream frosting.
2-2/3 cups all-purpose flour (340 grams)
3/4 cup unsweetened natural style cocoa powder (60 grams)
3 teaspoons baking soda
1 teaspoon salt (reduce to half if using salted butter)
1 cup unsalted butter, softened
3 cups packed light brown sugar (600 grams)
4 large eggs, room temperature
2 teaspoons vanilla extract
1 1/3 cups sour cream
1 1/3 cups very hot coffee (or boiling water)
Frosting
1 1/2 sticks (6 oz) unsalted butter, softened
4 1/2 cups confectioners sugar
1 cup plus 2 tablespoons natural cocoa powder
1/4 cup sour cream plus more as needed
1 teaspoon vanilla
3 tablespoons whole milk plus more as needed
Preheat oven to 350°. Grease three 9 inch round pans and line the bottoms with parchment. Grease the parchment, then dust with flour. Note: The parchment is necessary here! The cake likes to stick.
In a large bowl, whisk together flour, cocoa, baking soda and salt; set aside.
In a very large mixing bowl, using an electric mixer, beat softened butter and brown sugar until light and fluffy. You can do this with a handheld mixer or a stand mixer and paddle. If you have a stand mixer, I recommend it! Add eggs, one at a time, beating well after each addition. Beat in vanilla.
Add flour mixture to creamed mixture alternately with sour cream, beating well after each addition. Stir in hot coffee until blended. Beat with the mixer for about 30 seconds to remove lumps.
Transfer to prepared pans. Bake until a toothpick comes out clean, about 30-35 minutes. Cool in pans 10 minutes; remove to wire racks to cool completely.
To make the frosting, beat the butter and 1 cup of the sugar in a very large mixer bowl. Add ¼ cup of the sour cream, another cup of sugar and cocoa powder and stir until everything comes together. Beat with the mixer. Add vanilla, then add remaining sugar, and milk and beat until smooth. Add more milk and sour cream until you get the flavor and texture you want. Scrape bowl often.
For the confectioners' sugar, use about 120 grams per cup and don't add it all at once. Taste the frosting as you go for sweetness. Also, sifting give you a smoother frosting, but if you don't have time or are not worried about a few stray lumps, you can skip it.
Recipe by
Cookie Madness
at https://www.cookiemadness.net/2018/01/11/sandys-chocolate-cake/