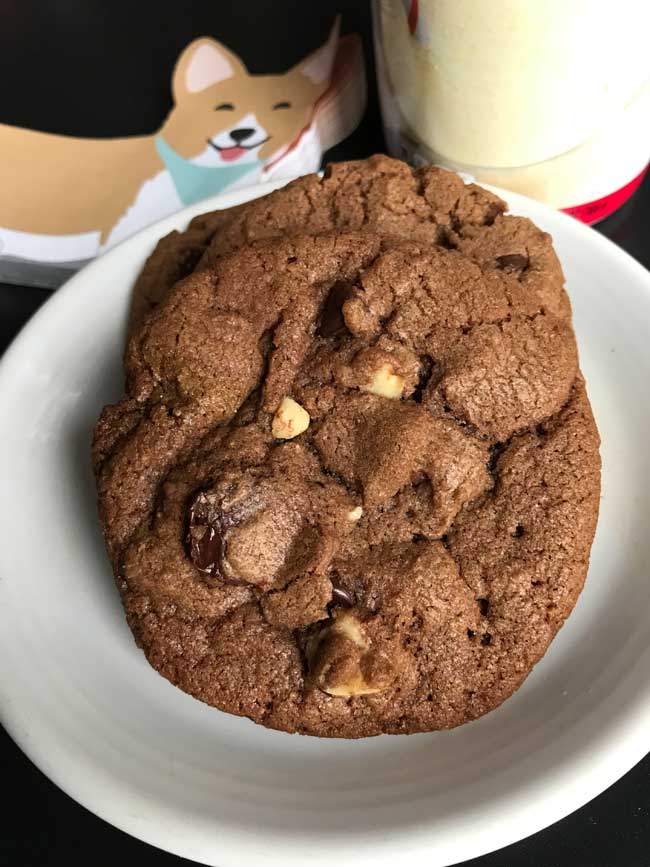 Chocolate Malted Hazelnut Cookies
Author: Cookie Madness
Prep time: 10 mins
Cook time: 13 mins
Total time: 23 mins
Light double chocolate cookies with a hint of malt flavor.
1 1/4 cup plus 2 tablespoons unbleached all purpose flour (190 grams)
1/4 cup malted milk powder (30 grams)
1/2 teaspoon baking soda
1/2 teaspoon salt
1 stick (114 grams) unsalted butter, room temperature
1/4 cup granulated sugar (50 grams)
3/4 cup plus 2 tablespoons packed dark brown sugar (175 grams)
2/3 cup Nutella or any other chocolate hazelnut spread (195 grams)
1 large egg
1 teaspoon vanilla extract
2/3 cup semisweet chocolate chips
2/3 cup toasted and chopped hazelnuts, skins removed
Preheat the oven to 350 degrees F. Have ready two rimmed baking sheets lined with parchment or if you prefer, just leave the sheets ungreased.
Whisk together the flour, malted milk powder, baking soda, and salt; set aside.
Using an electric mixer, beat the butter and both sugars until creamy. Add the hazelnut chocolate spread and mix until combined. Add the egg and the vanilla and mix until blended. Scrape down the sides of the bowl with a spatula, then add the flour mixture. Stir by hand or if using a mixer with with a good low power setting, do it with a mixer.
Stir in the chocolate chips and hazelnuts .
Using a rounded tablespoon or a medium size cookie scoop, scoop up balls of dough and arrange about 2 minutes apart on baking sheets.
Bake in the oven for 13 minutes for a softer cookie, and 15 minutes for a crisper cookie. Remove from oven and let cool for about 3 minutes on the baking sheet. Transfer to a wire rack to finish cooling completely.
For the malted milk powder I used Carnation.
Recipe by
Cookie Madness
at https://www.cookiemadness.net/2018/02/03/chocolate-malted-hazelnut-cookies/