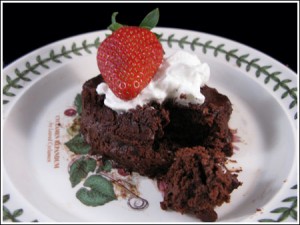 Amazing Flourless Chocolate Cake Made With Whipped Cream
Author: Cookie Madness
Prep time: 10 mins
Cook time: 25 mins
Total time: 35 mins
Miniature Warm Flourless Chocolate Cakes
4 oz high-quality bittersweet chocolate, finely chopped
3/4 ounces high-quality unsweetened chocolate, finely chopped
2 1/2 tablespoons strong brewed coffee
1 large eggs plus 2 tablespoons lightly beaten egg
3 T. sugar
1/4 cup heavy cream
Preheat oven to 325 degrees F. Butter insides of 2 mini springform pans (4 inch size) and line bottoms with circles of parchment paper.
Melt chocolate with coffee in a double boiler or bowl set over simmering water. Alternatively, you can use the microwave.
Whisk sugar and egg together in a metal stand-mixer bowl. Set the mixer bowl over a saucepan of simmering, not boiling, water, and whisk until mixture is warm to the touch and sugar is dissolved – make sure not to cook the mixture! Put on mixer stand and beat at medium speed until light and almost tripled in volume, about 3 minutes. Reduce speed to medium-low and continue beating another 2 minutes.
In chilled bowl, beat cream just past the soft-peak stage. Fold a quarter of egg mixture into chocolate mixture to lighten, then fold chocolate mixture back into remaining egg mixture. Fold in whipped cream. Transfer to prepared pans, smooth top, and tap filled pans lightly on work surface a few times to settle any air pockets.
Place pans in larger (I used a 9 inch) baking pan. Add enough hot water to baking pan to come halfway up sides of cake pans. Bake 30 minutes. Open oven door 30 seconds to release any excess moisture that builds in oven. Continue baking until center of cake feels somewhat firm when pressed lightly with your fingers, another 15-20 minutes. Remove cakes from oven and let cool at room temperature (note, if baking the larger cakes you cool them in the closed oven for two hours).
Run a warm knife around inside of pans, and carefully remove from pans. Transfer to refrigerator and chill until very firm. Wrap in plastic wrap and keep chilled until ready to serve
Remove cakes from refrigerator and return to room temperature. At least 1 hour before serving, preheat oven to its lowest setting. If you have just used the oven, turn it off. Unwrap cakes and set on oven proof serving plates. Warm them in the oven for about 20-30 minutes or until they are warm throughout.
Hand Mixer Version: For a more streamlined version, try melting the chocolate in the microwave and setting it aside. Dissolve sugar in egg mixture over a simmering pot of water, then beat with a hand mixer until triple in size. Set aside while you whip the cream. Clean beaters, whip cream, and proceed with recipe.
Recipe by
Cookie Madness
at https://www.cookiemadness.net/2009/02/amazing-flourless-chocolate-cake-made-with-whipped-cream/