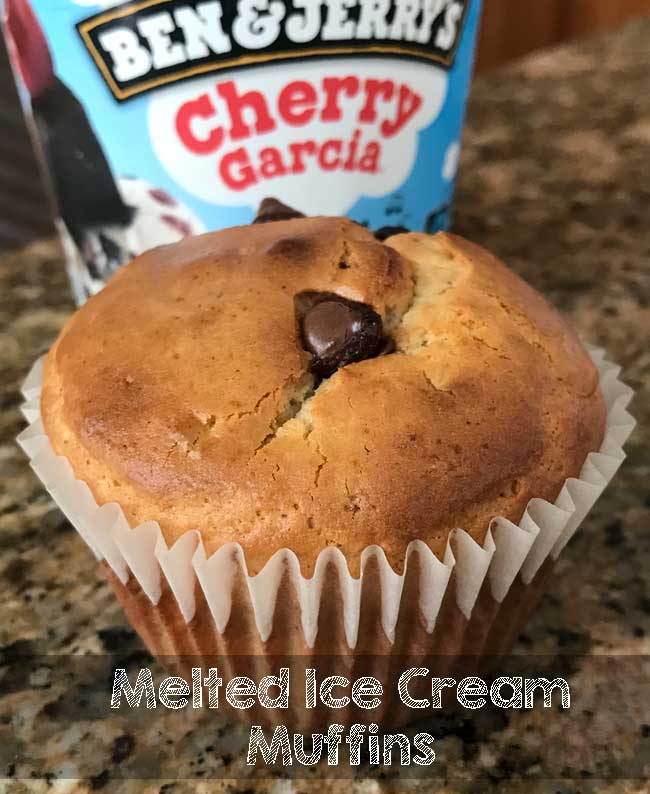 Cherry Garcia Melted Ice Cream Muffins
Author: Cookie Madness
Prep time: 10 mins
Cook time: 20 mins
Total time: 30 mins
Cherry Garcia Melted Ice Cream Muffins are light textured not-too-sweet muffins made with melted premium ice cream.
1 1/2 cups unbleached all-purpose flour (190 grams)
1 tablespoon baking powder
1 teaspoon salt
2 tablespoons canola or vegetable oil
2 cups softened ice cream (I used Cherry Garcia) (214 grams)
1 egg (48 grams)
1/2 teaspoon of vanilla or almond extract (optional)
Small handful of your favorite flavor baking chips
Preheat oven to 425 degrees F. Line 12 muffin cups with paper liners.
In a bowl, stir together flour, baking powder and salt.
In a mixing bowl, stir together oil, softened ice cream and egg.
Add flour mixture to ice cream mixture and stir until thoroughly blended. The batter will most likely be rather loose and shiny.
Divide among the muffin cups leaving a little room for the muffins to climb.
Bake at 425 for 20 to 25 minutes.
For best results weigh out the ice cream using the nutrition label to get the weight for 2 cups. If you are using a full pint, that is 2 cups so you don't have to weigh or measure.
Recipe by
Cookie Madness
at https://www.cookiemadness.net/2018/03/16/cherry-garcia-melted-ice-cream-muffins/