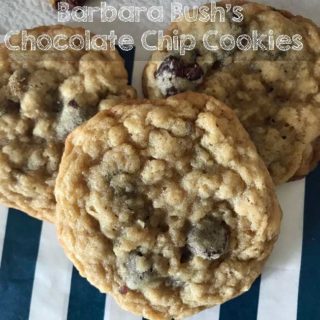 Author: Cookie Madness
Prep time: 15 mins
Cook time: 12 mins
Total time: 27 mins
Barbara Bush's recipe for chocolate cookies. The original recipe calls for instant oats, but I make them with 1 minute or Quick Cooking.
1 cup butter (salted)
1 cup granulated sugar
1 cup brown sugar (Iight brown)
2 eggs
2 cups flour (I used 250 grams)
1 teaspoon baking soda
1 teaspoon salt
2 cups instant oatmeal (I recommend Quick Cooking)
2 teaspoons vanilla
1 package (12 ounces) chocolate chips
Preheat oven to 350 degrees F.
Blend butter, granulated sugar and brown sugar. Add 2 eggs and beat.
Sift (I just mixed) together flour, soda, salt, then add to batter and stir until blended.
Add instant oatmeal, vanilla and chocolate chips.
Drop by tablespoons onto ungreased cookie sheet and bake 10-12 minutes at 350 degrees.
Let cool for a few minutes on the baking sheets, then transfer to a wire rack and let cool completely.
Recipe by
Cookie Madness
at https://www.cookiemadness.net/2018/04/21/barbara-bushs-chocolate-chip-cookies/