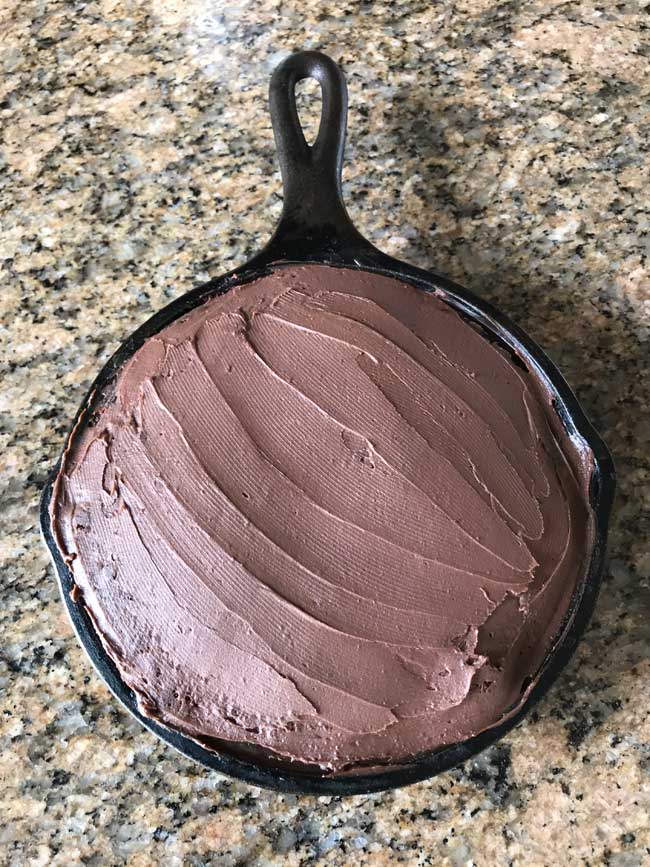 Mini Cast Iron Skillet Chocolate Cake
Author: Cookie Madness
Prep time: 10 mins
Cook time: 22 mins
Total time: 32 mins
Six Inch Cast Iron Skillet Chocolate Cake
Frosting:
42 grams (1 ½ oz) chopped milk chocolate (I used Endangered Species 48%)
1/4 cup (55 grams) heavy cream
Salt, to taste
Cake:
3 tablespoons (45 grams) unsalted butter
3 tablespoons black coffee
2 tablespoons (12 grams) Dutch cocoa, a dark one or Guittard Cocoa Rouge
22 grams chopped dark chocolate, roughly
1/4 cup (56 grams) light brown sugar
3/8 teaspoon vanilla
Little less than 1/8 teaspoon salt (pinch)
1 large egg, straight from the fridge
1/4 cup (32 grams) all-purpose flour
3/8 teaspoons baking soda
Milk Chocolate Ganache Frosting: Put 2 oz of heavy cream in a 2-cup microwave-safe glass measure or microwave-safe bowl and heat for about 30-40 seconds or until it starts to boil. Add the chopped milk chocolate and stir until melted and smooth. Let cool at room temperature for about 15 minutes, then cover and refrigerate until needed.
Skillet Cake: Preheat to 350°F. In a 6-inch (or 6 1/2 inch) cast iron skillet, melt the butter over low heat. Stir in the coffee. Remove from heat and mix in the cocoa powder and dark chocolate, stirring until chocolate melts and mixture is smooth. Scrape the mixture in a medium size bowl and stir in the brown sugar, vanilla and salt. Stir until smooth, then whisk in the egg until batter is smooth. Stir in the baking soda and the flour until fully blended.
Scrape mixture into skillet and bake for 25 minutes or until cakes springs back when touched. Remove from oven and let cool completely.
To frost, stir the milk chocolate ganache until it is creamy (Stella describes it as a little looser than buttercream and sort of like yogurt) and the spread over the cooled cake.
Serve immediately or let sit at room temperature until ready to serve., or leave at room temperature until ready to serve, up to 24 hours at cool room temperature.
Recipe by
Cookie Madness
at https://www.cookiemadness.net/2018/06/10/mini-cast-iron-skillet-chocolate-cake/