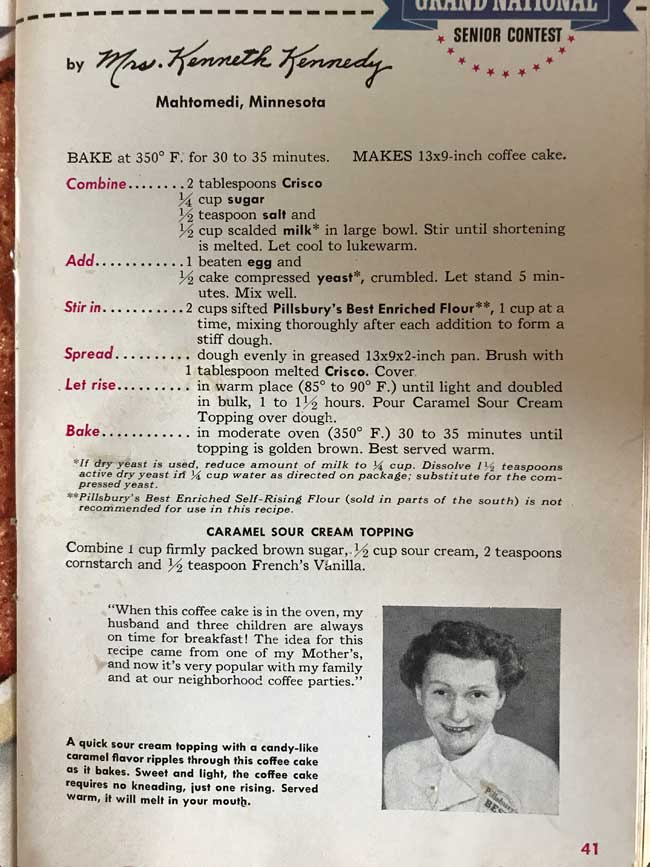 Swedish Ripple Coffee Cake
Author: Cookie Madness
Prep time: 100 mins
Cook time: 35 mins
Total time: 2 hours 15 mins
Swedish Ripple Coffee Cake is an old Pillsbury Bake-Off recipe from 1955.
1/4 cup very warm water**
1 1/2 teaspoons active dry yeast**
2 tablespoons shortening, regular or butter flavor (24 grams)**
1/4 cup sugar (50 grams)
1/2 teaspoon salt
1 beaten egg, room temperature
1/4 cup whole milk, room temperature
2 cups sifted or weighed out all-purpose flour (260 grams)
1 tablespoon of butter, melted
Caramel Sour Cream Topping
1 cup firmly packed brown sugar (200 grams)
1/2 cup sour cream, not low fat
2 teaspoons cornstarch
1/2 teaspoon vanilla
1/4 to 1/2 teaspoon cinnamon (optional)
Grease a 9x13 inch baking pan. Stir the yeast and warm water together in a small cup and set aside to proof.
Meanwhile, in a large mixing bowl, combine the shortening, sugar and salt and stir until blended. Add the egg and stir until blended, then add the water/yeast mixture. Stir until blended, then stir in the milk.
Gradually add the flour, stirring to form a dough. It will be slightly sticky but firm.
Press this dough into the pan (dampen your fingers and press), then brush top with a tablespoon of melted butter. Let rise for about 1 1/2 hours.
Combine the brown sugar, sour cream, cornstarch and vanilla (and cinnamon, if using) and carefully pour over the top, spreading lightly.
Place in a 350 degree oven and bake for 30 to 35 minutes. Serve warm
You can also make this with fast acting yeast. If using fast active yeast, omit the water and use 1/2 cup milk total. Mix the fast acting yeast in with the flour. If you don't want to use shortening you can use 1 tablespoon of butter and 1 tablespoon of oil. The texture might be a bit heavier.
Recipe by
Cookie Madness
at https://www.cookiemadness.net/2018/07/31/swedish-ripple-coffee-cake/