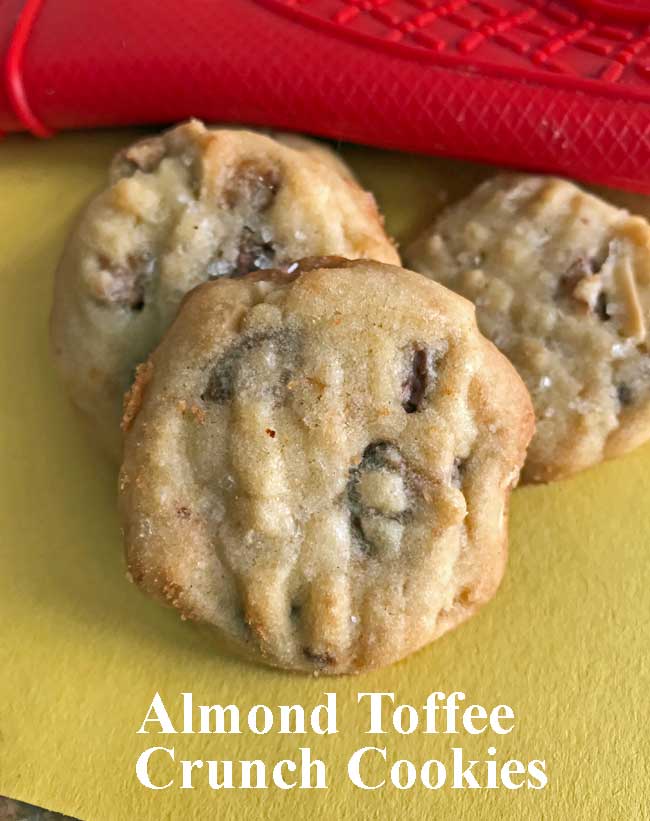 Almond Toffee Crunch Cookies
Author: Cookie Madness
Prep time: 10 mins
Cook time: 12 mins
Total time: 22 mins
Almond Toffee Crunch Cookies are sandy textured cookies filled with Heath bars and almonds.
1 cup slivered almonds, lightly toasted and chopped
2 ¼ cups all-purpose flour (280 grams)**
1/2 teaspoon baking soda
1/2 teaspoon cream of tartar
3/4 teaspoon salt
1 stick (114 grams) unsalted butter, softened
1/2 cup granulated sugar (100 grams)
1/2 cup confectioners' sugar (60 grams)
1/2 cup canola oil (or your favorite vegetable oil)
1 large egg
1/2 teaspoon vanilla extract
1/8 teaspoon almond extract (optional)
1 cup (4 oz) of chopped Heath bars (you can use a little more if desired)
Preheat oven to 350 degrees F. Lay the almonds on a rimmed baking sheet and bake just until they barely start to turn brown. Let cool, then chop.
Meanwhile, mix together the flour, baking soda, cream of tartar and salt.
In a large bowl, beat the butter and both sugars until creamy. Beat in the oil until blended, then beat in the egg and extract(s). By hand or using lowest speed of mixer, stir in the flour mixture into the creamed mixture, then stir in the chopped almonds and toffee bits.
Shape mixture into 1 inch balls and roll in sugar. Place on ungreased baking sheets and flatten with a fork. Bake for 12-14 minutes or until lightly browned.
I found this one in Taste of Home and have modified it somewhat by halving it, changing the extracts and toasting the nuts. The original version also called for whole wheat flour, but I think the cookies are fine with just all-purpose.
Recipe by
Cookie Madness
at https://www.cookiemadness.net/2018/08/23/almond-toffee-crunch-cookies/