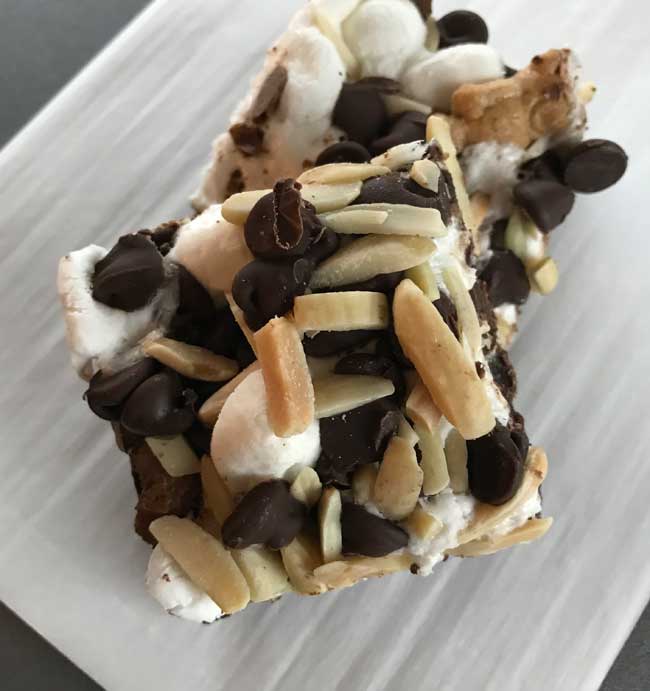 Rock Road Loaf Pan Brownies
Author: Cookie Madness
Prep time: 10 mins
Cook time: 20 mins
Total time: 30 mins
These come out of the oven a little gooey. You can enjoy them hot and gooey or let them cool and set. I let them cool, then briefly freeze to set the chocolate chips.
2 tablespoons granulated sugar
2 tablespoons brown sugar
1 tablespoon unsalted butter
1 tablespoon water
4 ½ oz chopped semisweet or chips (or bittersweet)
1 large, cold egg
1/2 teaspoon vanilla extract
1/3 cup (1 1/2 oz) all-purpose flour
1/8 teaspoon baking soda
1/8 scant teaspoon salt
Another 1/2 cup semisweet or bittersweet chocolate chips
1 cup marshmallows
Handful of nuts (or Teddy Grahams)
Preheat the oven to 350 degrees F. Line a 9x5 inch loaf pan with foil and grease foil (or use nonstick).
In a microwave-safe mixing bowl, combine both sugars, the butter and water and heat on high for 30 seconds. Stir well, then add chocolate chips and stir until the chips are melted. Microwave for another 15-30 seconds if needed to melt the chips. Stir until chips are melted and smooth. Chocolate will begin to thicken as you stir.
Whisk to stir the cold egg into the chocolate, then stir in the vanilla until evenly blended, scraping sides of bowl well.
Stir in the baking soda and salt, then add flour and stir until blended.
Make sure the mixture isn't so warm that it will melt the extra chips, then add about ¼ cup of chocolate chips (if desired). Spread evenly in the loaf pan.
Bake for about 18 minutes on the center rack until brownies appear set.
Immediately sprinkle marshmallows, chocolate chips and nuts over top of brownies and return to the oven for 3 minutes.
Allow the brownies to cool for an hour, then chill or freeze long enough to set the chocolate. If you like gooey brownies, skip that step.
Lift foil from pan and cut into 4 large bars or 8 squares.
To double the recipe, double all ingredients, use an 8 inch square pan, bake for 22 minutes, add toppings, then bake for another 2-3 minutes to puff the marshmallows.
Recipe by
Cookie Madness
at https://www.cookiemadness.net/2019/02/27/rock-road-loaf-pan-brownies/