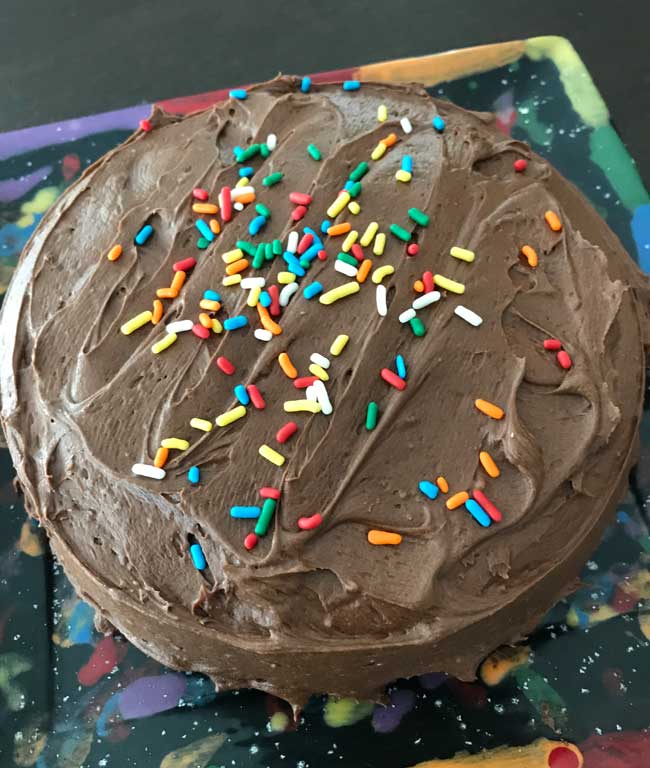 Six Inch Instant Pot Chocolate Cake
Author: Cookie Madness
Prep time: 10 mins
Cook time: 40 mins
Total time: 50 mins
Six Inch Instant Pot Chocolate Cake plus easy frosting recipe.
2/3 cup all-purpose flour (84 grams)
1/2 cup sugar (100 grams)
1/4 cup unsweetened cocoa powder (20 grams)
1/2 teaspoon baking powder
1/2 teaspoon baking soda
1/4 teaspoon salt
1/2 cup whole milk
2 (slightly generous) tablespoons vegetable oil
1 teaspoon vanilla extract
Frosting
2 tablespoons plus 2 teaspoons butter, softened (35 grams)
1 cup powdered sugar (120 grams)
1/4 cup natural unsweetened cocoa powder (20 grams)
1/2 tablespoons sour cream
2 tablespoons milk (or as needed)
1/2 teaspoon vanilla extract
Pinch of salt if using unsalted butter
Grease and flour a 6 inch round cake pan.
Set the trivet in the instant pot and add 1 ½ cups water.
In a mixing bowl, whisk together flour, sugar, cocoa powder, baking powder, baking soda and salt.
In a small bowl or in a 2 cup Pyrex measure, mix milk, oil and vanilla. Add the liquid mixture to flour mixture and stir by with a rubber scraper or mixing spoon until fully blended.
Pour batter into the greased pan, set it on the trivet and close and seal instant pot. Make sure the steamer valve is sealed, then hit "manual" then set to 28 minutes, hit manual again. When the cake is done, release steamer nozzle (quick release), then remove lid and carefully remove the cake. It should look slightly glossy and have an internal temperature around or a little over 200F.
Let the cake cool completely, then make chocolate frosting. Beat together softened butter and sugar, then stir in cocoa powder and sour cream. Beat in the milk and vanilla and continue beating until smooth and creamy. Add more milk if needed and add salt to taste.
Recipe by
Cookie Madness
at https://www.cookiemadness.net/2019/03/18/six-inch-instant-pot-chocolate-cake/