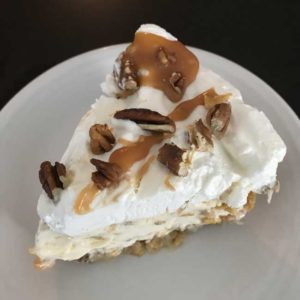 Author: Cookie Madness
Prep time: 10 mins
Cook time: 1 min
Total time: 11 mins
Crunchy Ice Cream Pie made with a no-bake crust of Corn Flakes, coconut, brown sugar, pecans and butter.
3 cups (I used heaping cups) 3 ½ oz Corn Flakes
1 cup sweetened flaked coconut
1 cup brown sugar, very lightly packed
1 cup chopped toasted pecans
1 stick (114 grams ) butter, unsalted, melted
½ teaspoon salt (omit if using salted butter)
1 quart vanilla ice cream, I used Edy's
Topping
1 cup heavy cream
2 tablespoons sugar or ¼ cup confectioners' sugar
½ teaspoon vanilla
Caramel Sauce for garnish
Grease a 9 inch pie plate very well with butter.
In a large mixing bowl or in the bowl of a stand mixer with the paddle attached, mix together the cereal, coconut, brown sugar, pecans and melted butter.
Scoop out about half of this mixture and press it onto the bottom and up the sides of the greased pie dish.
Put softened ice cream into the mixing bowl with what's left of the cereal mixture and stir until well blended. Spoon into the pie plate, press down gently. Cover with plastic wrap and freeze until firm.
Make whipped cream topping by whipping cream and sugar, then adding the vanilla. Spread over ice cream and put back into freeze until frozen.
Garnish with caramel sauce and/or chopped pecans.
To serve, set the frozen pie in a shallow pan (such as a jelly roll pan) with hot water. The heat from the water will loosen the frozen crust from the pan. Remove and slice. Allow the slices to soften a bit before serving. Alternatively, you can allow the whole pie to soften a little before serving, but I find it's easier to slice when its more solid, so I slice and then soften.
Recipe by
Cookie Madness
at https://www.cookiemadness.net/2019/06/12/crunchy-ice-cream-pie/