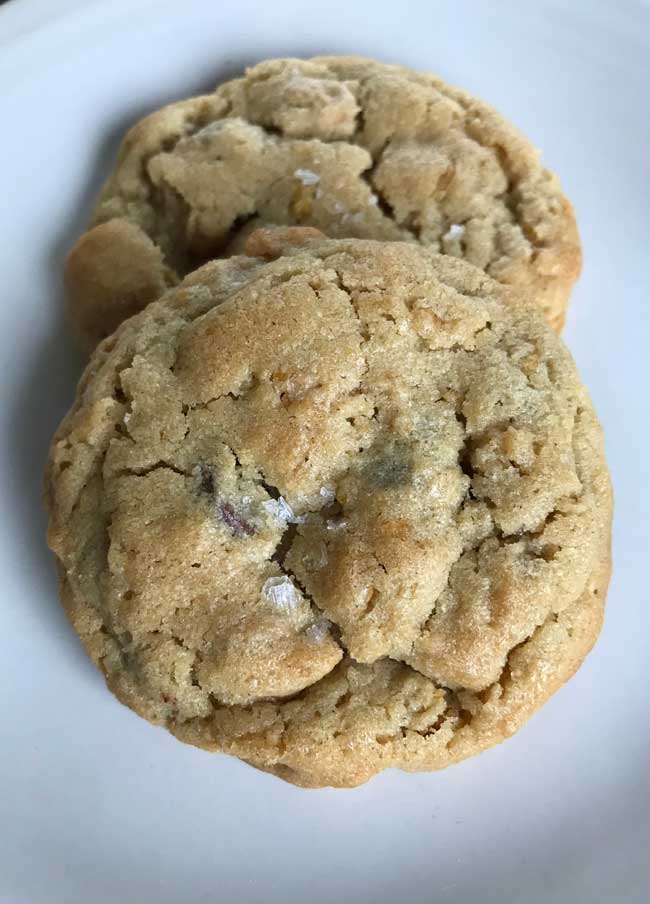 Ultimate Corn Flake Cookies
Author: Cookie Madness
Prep time: 10 mins
Cook time: 14 mins
Total time: 24 mins
Ultimate Corn Flake Cookies made with cereal, nuts and two kind of chips.
1 stick (114 grams) unsalted butter, softened (but still slightly firm)
1/2 cup sugar (100 grams)
1/3 cup firmly packed brown sugar (65 grams)
1/2 cup (128 grams) peanut butter (I used extra crunchy)
1 large egg
3/4 teaspoon vanilla extract
1/2 teaspoon salt
1 teaspoon baking soda
1 cup (130 grams) all-purpose flour
About 1 cup corn flakes cereal, crushed after measuring (30 grams)
1/2 cup peanut butter chips or butterscotch chips
1/2 cup milk chocolate chips
Preheat oven to 350 degrees F.
In the bowl of a stand mixer or in a large mixing bowl, beat butter and both sugars until light and fluffy. Add the peanut butter and beat until well mixed, then add the egg and mix on low to medium low speed until well mixed, scraping sides of bowl often.
Beat in the salt and baking soda until evenly distributed, then add the flour and stir until low until almost fully incorporated. Stir in the cereal and chips.
With a medium size cookie scoop, scoop out about 20 balls of dough. If you are using a small scoop, you should get about 30 (as per the recipe). If you are not using a scoop, just use heaping tablespoons.
Bake for 12 to 14 minutes or until the cookies are brown around the edges.
Recipe by
Cookie Madness
at https://www.cookiemadness.net/2019/06/21/ultimate-corn-flake-cookies/