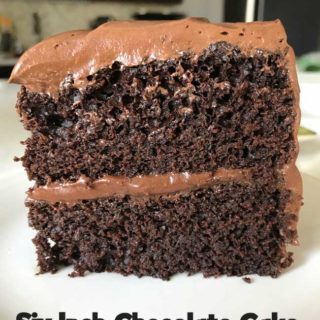 Author: Cookie Madness
Prep time: 10 mins
Cook time: 45 mins
Total time: 55 mins
Baked low and slow, this is a six inch chocolate cake made with buttermilk, oil, melted semisweet chocolate and a lot of cocoa powder.
Cake Layers
1 oz semisweet or bittersweet chocolate chips
1/2 cup hot brewed coffee
1 cup (200 grams) sugar
3/4 cup plus 2 T. (105 grams) all-purpose flour
1/2 cup (1 1/2 oz) unsweetened natural cocoa powder (not Dutch process)
3/4 teaspoon baking soda
1/4 teaspoon baking powder
3/8 teaspoon salt
1 large eggs
1/4 cup vegetable oil
1/2 cup buttermilk, shake well
3/4 teaspoon vanilla extract
Sour Cream Chocolate Frosting
6 T. unsalted butter, softened
4 1/2 tablespoons unsweetened natural cocoa powder
1 teaspoon vanilla
1 1/2 cups confectioners' sugar
1 1/2 ounces unsweetened chocolate, chopped
1/2 cup sour cream, at room temp or on the warm side
Preheat oven to 300 degrees F. Grease and flour two six inch round cake pans.
Combine the chocolate chips and hot coffee and stir until chips are melted, then set aside.
In the bowl of a stand mixer, combine the sugar, flour, cocoa powder, baking soda, baking powder and salt. Stir well.
In a large measuring cup or small mixing bowl, mix together egg, oil, buttermilk and vanilla. Add to the flour mixture and stir until blended, then stir in the melted chocolate/coffee mixture.
Beat for 20 seconds or until well blended.
Divide batter between the two pans (about 12 oz in each pan if you weigh).
Bake at 300 degrees F on center rack for about 45 minutes or until cakes spring back when touched.
To make the frosting, beat together the softened butter, cocoa powder and half of the confectioners sugar. Add the vanilla and the remaining confectioners' sugar, scraping the side of the bowl often as you beat. Stir in the melted chocolate, then stir in the sour cream. If for some reason the icing is softer than you like or seems to soft to spread, throw the whole bowl in the refrigerator for an hour, then beat again.
It's important for the icing ingredients to be room temperature and not the least bit cold. If your butter and sour cream are too cold, the melted chocolate may re-solidify into little chocolate clumps when you mix it in.
Recipe by
Cookie Madness
at https://www.cookiemadness.net/2019/07/01/six-inch-chocolate-cake/