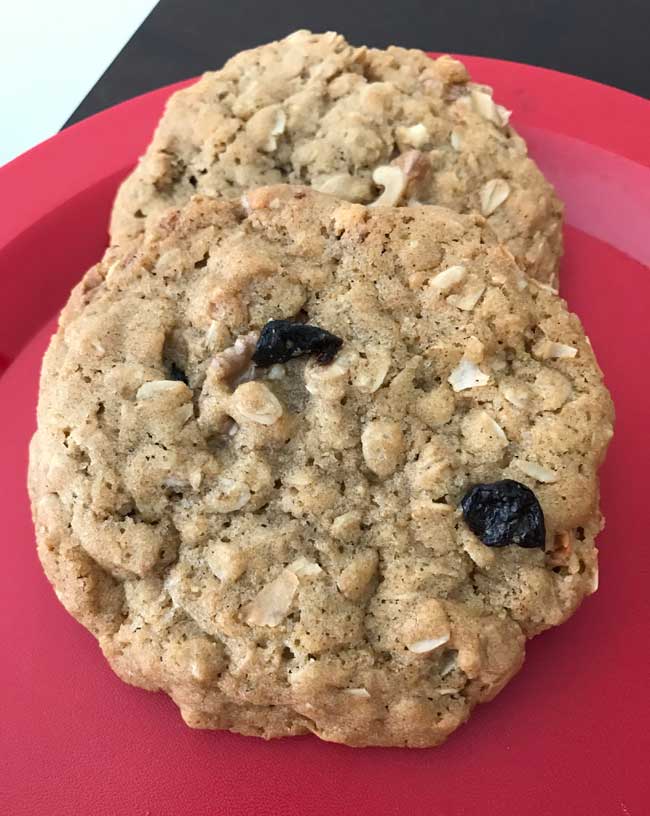 Neiman Marcus Oatmeal Cookies
Author: Cookie Madness
Prep time: 10 mins
Cook time: 20 mins
Total time: 30 mins
Neiman Marcus Oatmeal Cookies are giant oatmeal cookies baked at 300 degrees.
2 sticks (230 grams) unsalted butter
2 cups (280 grams) unbleached all-purpose flour (weigh)
1 teaspoon baking soda
1 teaspoon salt
1 teaspoon cinnamon (optional)
1 tightly packed cup (240 grams) light brown sugar (weigh for best results)
1 cup (200 grams) superfine or granulated sugar
2 eggs, cool room temp
1 teaspoon pure almond extract or vanilla extract
3 cups old fashioned rolled oats
1 1/2 cups raisins or any other chopped dried fruit (prunes, dates, dried cherries) OR use chopped chocolate or chips
1/2 cup walnuts (optional)
Preheat oven to 300 degrees F. Have ready two ungreased baking sheets (or feel free to line with parchment).
Melt the butter and set it aside to cool.
Weigh the flour and stir together flour, baking soda and salt (and cinnamon,if using).Set aside.
Weigh out the brown sugar so that you get 240 grams. Add it to the mixing bowl along with the granulated sugar and the cool melted butter. Beat until well mixed, then beat in eggs and extract.
Add flour mixture to sugar mixture and stir until blended, then stir in oats and nuts.
Scoop very large, golf ball sized rounds and arrange on trays, spacing 3 inches apart. You can leave them as balls or press down slightly so that the tops are flat.
Bake for about 20 minutes, until golden. A bit longer for crisper cookies.
Recipe by
Cookie Madness
at https://www.cookiemadness.net/2019/08/19/neiman-marcus-oatmeal-cookies/