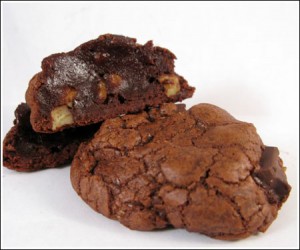 Oh No, Not Another Double Chocolate Cookie!
Author: Cookie Madness
Prep time: 10 mins
Cook time: 240 mins
Total time: 4 hours 10 mins
A rich, fudge-like double chocolate cookie.
2/3 cup (90 grams) all purpose flour (3 oz)
1 tablespoon (5 grams) unsweetened cocoa powder
1/4 teaspoon (1 ml) baking powder
1/2 teaspoon (2.5 ml) salt
5 ½ tablespoons (80 grams) unsalted butter (1/3 cup)
7 ounces (200 grams) extra bittersweet (70%) chocolate, chopped
1/2 teaspoon instant espresso powder
2 large eggs
2/3 cup (130 grams) granulated sugar
1/4 cup (50 grams) packed brown sugar
1/2 teaspoon (2.5 ml) vanilla
1/2 cup (40 grams) toasted and chopped walnuts, pecans or hazelnuts
2/3 extra dark, bittersweet or semi-sweet chocolate chips
Stir flour, cocoa powder, baking powder and salt together in a small bowl; set aside.
Melt the butter in a small saucepan set over medium heat. Reduce heat to low, add the chocolate, stir until melted and remove from heat. Stir in the instant espresso powder. This step may also be done in a microwave-safe bowl. Just melt the butter, add the chocolate to the hot butter, and stir until the chocolate is melted before stirring in the espresso powder. Let cool slightly.
Beat the eggs, sugar and brown sugar for 2 minutes using high speed of an electric handheld mixer. Beat in the vanilla, followed by the melted chocolate and beat for another minute. Add the flour and stir by hand until it is mixed in. Add nuts. Make sure batter is cool, then add the remaining chocolate chips.
Chill for about 2 hours or batter is thick enough to scoop. Scoop up heaping tablespoons of dough (you should get about 16) and place them on a foil lined baking sheet or a couple of foil lined plates. Cover and chill until ready to use or bake right away.
Preheat oven at 350°F. Line 2 cookie sheets with parchment paper.
Arrange the dough mounds 3 inches apart on baking sheets and bake for 11 to 14 minutes or until cookies appear set. Let cool slightly and remove from cookie sheet. Let cool completely on a wire rack.
Cook time includes chill time.
Recipe by
Cookie Madness
at https://www.cookiemadness.net/2009/04/oh-no-not-another-double-chocolate-cookie/