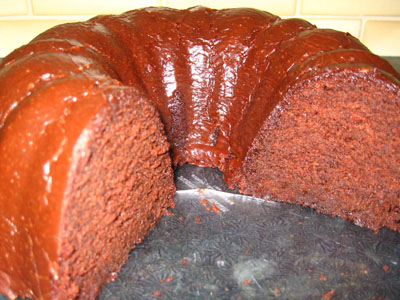 Chocolate Sour Cream Buttermilk Bundt Cake
Author: Cookie Madness
Prep time: 10 mins
Cook time: 45 mins
Total time: 55 mins
Adapted from Cook's Illustrated, this is a moist chocolate cake that's simple and delicious. Because it is so rich you can skip the glaze and dust it with powdered sugar, but feel free to drizzle on your favorite chocolate glaze anyway!
3/4 cup natural cocoa ( not Dutch-processed, 2 1/4 ounces)
6 ounces chopped bittersweet chocolate
1 teaspoon instant espresso powder or 1 teaspoon coffee extract
3/4 cup boiling water
1 cup sour cream, room temperature
1 3/4 cups unbleached all-purpose flour ( 8 3/4 ounces)
1 teaspoon salt
1 teaspoon baking soda
12 tablespoons unsalted butter, room temperature ( 1 1/2 sticks)
2 cups packed light brown sugar ( 14 ounces)
1 tablespoon vanilla extract
5 large eggs, room temperature
1/2 cup regular or miniature chocolate chips (optional)
confectioners' sugar, for dusting
Preheat oven to 350 degrees F. Spray a 12 cup bundt pan with flour-added cooking spray or grease and flour thoroughly.
Combine cocoa, chocolate, and espresso powder in medium heatproof bowl; pour boiling water over chocolate and whisk until smooth. Cool to room temperature; then whisk in sour cream (or combination of sour cream and buttermilk).
In a second bowl, whisk together flour, salt, and baking soda.
In a standing mixer fitted with paddle, beat butter, sugar, and vanilla on medium-high speed until pale and fluffy, about 3 minutes. Reduce speed to medium and add eggs one at a time, mixing about 30 seconds after each egg.
By hand or using very lowest speed of mixer, stir 1/3 of the flour into batter. Add half of the chocolate/sour cream mixture and stir until incorporated. Scrape bowl and add remaining flour mixture and all of remaining chocolate mixture. Add chocolate chips if using.
Pour batter into prepared Bundt pan. Bake until wooden skewer inserted into center comes out with few crumbs attached, 42-45 minutes.
Cool in pan 10 minutes, then invert cake onto parchment-lined wire rack.
Let cool completely and dust with confectioners' sugar if desired.
If you don't have any flour added baking spray, you can use Cook's Illustrated's technique. They melt 1 tablespoons of butter (shortening works too), mix it with cocoa, then brush it all over the interior surface of the pan.
Recipe by
Cookie Madness
at https://www.cookiemadness.net/2006/06/chocolate-sour-cream-buttermilk-bundt-cake/