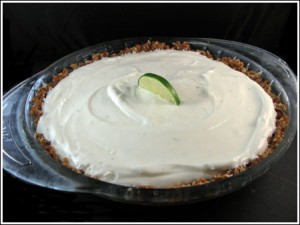 Author: Cookie Madness
Prep time: 10 mins
Cook time: 240 mins
Total time: 4 hours 10 mins
Frozen Margarita Pie made with a delicious pretzel crust.
5 1/2 tablespoons (80 grams) butter
1/4 cup (48 grams) sugar
1 ½ cups finely crushed pretzels (4 oz/114 grams)**
1 can (14 oz/392 grams) condensed milk
1/4 cup (60 ml) fresh lime juice
1 teaspoon (5 ml) lime zest
2 tablespoons (30 ml)Triple sec
2 1/2 tablespoons (40 ml) good Tequila
1 cup heavy whipping cream
Garnish: Sweetened whipped cream or whipped topping
Melt the butter in a large microwave-safe bowl. Stir in the sugar and crushed pretzels. Press pretzel mixture across bottom and up sides of a greased glass pie plate. Keep chilled until ready to use.
Make filling. In a large mixing bowl, stir together the condensed milk, lime juice, lime zest, Triple Sec and Tequila. Whip the cream with an electric mixer and fold the unsweetened whipped cream into the condensed milk mixture. Pour into pie shell.
Freeze for about an hour or until firm, then wrap tightly in plastic wrap and freeze for 4 more hours. About a half hour before serving, remove from freezer and serve.
Garnish with sweetened whipped cream.
Recipe by
Cookie Madness
at https://www.cookiemadness.net/2009/04/28/frozen-margarita-pie/