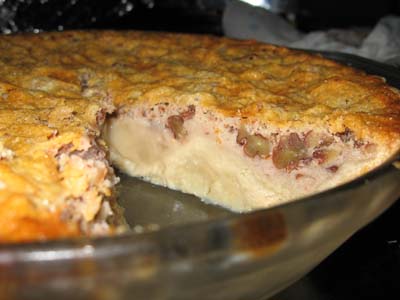 Author: Cookie Madness
Prep time: 10 mins
Cook time: 75 mins
Total time: 1 hour 25 mins
Buttermilk Pecan Pie
1 1/2 cup whole pecans
1/2 cup butter, room temperature
1 1/4 cups granulated sugar
1/4 cup brown sugar
2 teaspoons vanilla
3 eggs
3 tablespoons flour
1/8 teaspoon salt
1 cup buttermilk
1 uncooked pie crust, use a 9 inch deep dish
Preheat oven to 350 degrees F. Place pecans on a cookie sheet and toast for 8-10 minutes or until aromatic. Let cool, then chop coarsely.
Reduce oven heat to 300 degrees F.
In a mixing bowl, beat together butter and both sugars. Beat in vanilla and eggs; Stir in flour and salt. Add buttermilk and stir until fully incorporated. Stir in pecans. Pour into pie shell.
Place in oven (set on a cookie sheet to catch drips) and bake at 300 for 1 hour and 15 minutes. Cool completely, then chill.
Recipe by
Cookie Madness
at https://www.cookiemadness.net/2006/06/16/buttermilk-pecan-pie/