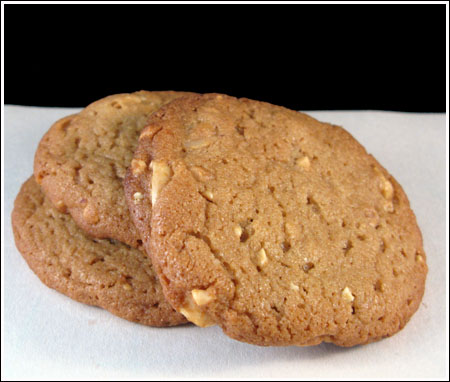 Sadie's Peanut Butter Cookies
Author: Cookie Madness
Prep time: 10 mins
Cook time: 15 mins
Total time: 25 mins
These have a light and crispy texture thanks to the shortening. Butter won't give you the same results, unfortunately. For best results, use a mixture of shortening and butter.
4 oz (114 grams) unsalted butter
1/2 cup (100 grams) non-hydrogenated shortening or leaf lard (114 grams)
1 cup (260 grams) peanut butter
1 cup (200 grams) brown sugar
1 cup (190 grams) granulated sugar
2 large eggs
1 teaspoon (5 ml) vanilla extract
1 teaspoon (5 ml) baking soda
1/2 teaspoon (2 ml) salt
1 cup (114 grams) cake flour
1 cup (135 grams) all purpose flour
1/2 cup lightly salted peanuts, chopped – (big handful)
Cream butter, shortening (or lard), peanut butter, and both sugars together in a mixing bowl.
Add eggs and beat until combined. Beat in the vanilla, followed by the soda and salt – make sure there are no lumps of stray soda.
Stir in the cake flour, then stir in the all-purpose flour, followed by the chopped nuts.
Chill the dough for about an hour.
Preheat oven to 350 degrees F. Line a couple of cookie sheets with parchment or just use nonstick sheets and don't lined them with anything.
Using a medium size cookie scoop, scoop out about 32 balls of dough and arrange 2 1/2 inches apart on baking sheets. You can leave them as balls or you can use a fork and make a criss-cross pattern.
Bake for 12 - 15 minutes or until lightly browned around the edges. The centers may seem a bit underdone at this point, but they will firm up. Let cookies cool on the pan 5 minutes before transferring to a wire rack to cool completely.
Source:
"First United Church, Waterloo, 1942"
Recipe by
Cookie Madness
at https://www.cookiemadness.net/2009/05/12/sadies-peanut-butter-cookies/