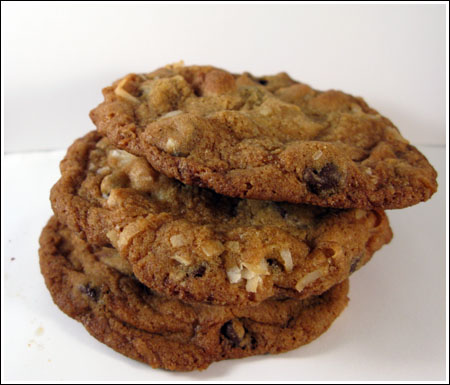 Temptation Island Cookies
Author: Cookie Madness
Prep time: 10 mins
Cook time: 10 mins
Total time: 20 mins
An adapted version of a Food & Wine recipe called Temptation Island cookies. Original recipe included golden raisins.
3 cups (13.5 ounces) unbleached all-purpose flour, stir and aerate well before measuring
2 1/2 teaspoons baking powder
2 teaspoons baking soda
1/2 teaspoon salt
2 sticks (½ pound) unsalted butter, softened
2 cups light brown sugar
1/4 cup granulated sugar
2 large eggs
2 teaspoons pure vanilla extract
1 1/3 cups shredded coconut
1 cup extra dark chocolate chips
3/4 cup macadamia nuts, chopped
Preheat oven to 350 degrees
Mix the flour, baking powder, baking soda and salt together in a bowl and set aside.
In large bowl, using an electric mixer, beat the butter, brown sugar and granulated sugar until the mixture is fluffy. Beat in the eggs and vanilla until they are combined. By hand or using lowest speed of the mixer, stir in the flour mixture.
Add coconut, chips, and nuts to the dough and stir well.
Using a heaping tablespoon, scoop up mounds of dough and arrange about 2 ½ inches apart on baking sheets. Bake one sheet at time for 10-12 minutes or until cookies are golden brown.
Recipe by
Cookie Madness
at https://www.cookiemadness.net/2009/05/26/temptation-island-cookies/