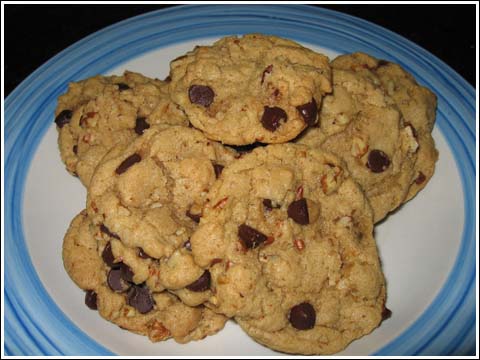 Maple-Pecan Chocolate Chip Cookies
Author: Cookie Madness
Prep time: 10 mins
Cook time: 10 mins
Total time: 20 mins
A stir and bake chocolate chip cookie recipe without eggs or butter. Over the years I've experimented with different types of vegetable oil. I usually stick with canola, but these are also very good with coconut oil.
1 cup all purpose flour or whole wheat pastry flour
1 teaspoon baking powder
1/2 teaspoon baking soda
1/4 cup brown sugar
1/4 teaspoon salt
1/3 cup maple syrup
1/4 teaspoon molasses
1 teaspoon vanilla extract -- (1 to 2)
1/4 cup canola oil
1/3 cup chocolate chips
1/4 cup pecans, toasted
Preheat oven to 350 degrees F.
Stir together flour, baking powder and soda. Add sugar and salt and stir again.
In a separate bowl, combine syrup, molasses, vanilla and oil.
Make a funnel in the flour mixture and pour liquid into it. Stir to combine.
Add chips and nuts and nuts, being careful not to overmix.
Drop by large spoonfuls onto parchment lined baking sheet. Bake 10 minutes or just-set. Don't over bake.
Remove from oven and place cookies on cooling rack.
Serves: 8-12
Note: These last a long time and taste great chilled.
Recipe by
Cookie Madness
at https://www.cookiemadness.net/2006/06/09/maple-pecan-chocolate-chip-cookies/