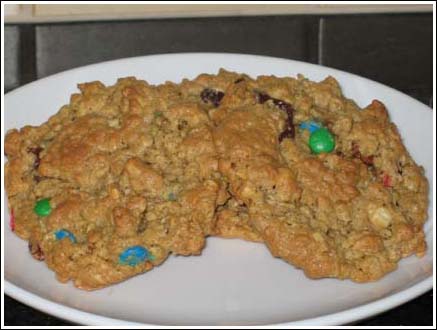 King Arthur's Monster Cookies
Author: Cookie Madness
An excellent Monster Cookie recipe that contains a bit of flour. For crunchier cookies.
3 large eggs
1 cup brown sugar
1 cup granulated sugar
1 teaspoon vanilla
1 teaspoon corn syrup
2 teaspoons baking soda
1 teaspoon salt
1/2 cup unsalted butter, melted
1 1/2 cup peanut butter
4 1/2 cups rolled oats
1/2 cup unbleached all purpose flour
3/4 cup chocolate chips
3/4 butterscotch chips (optional)
3/4 cup mini M&Ms (I used the M&M baking bits)
Preheat oven to 350 degrees F. Line pans with parchment or nonstick foil.
In a mixing bowl, combine the eggs, sugars, vanilla, corn syrup, baking soda and salt. Stir in melted butter and peanut butter, followed by oats and flour. Stir in other ingredients. Let dough rest for 30 minutes. Drop the dough by 1/4 cupfuls onto baking sheets. Use fingers to flatten the cookies slightly, then bake them for 12 minutes or until they're a light golden brown. Remove from the oven and cool on a rack.
Makes 26 large cookies
For crunchier cookies, try baking at 325 for 18 to 20 minutes.
Recipe by
Cookie Madness
at https://www.cookiemadness.net/2006/07/king-arthurs-monster-cookies/