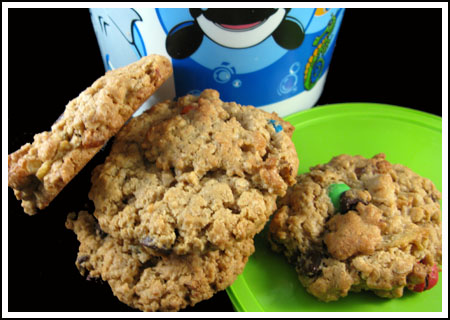 Pretzel Potato Chip Monsters
Monster cookies with the addition of a sugar coated potato chip and pretzel mixture. Or you can just throw regular pretzels and potato chips into the dough.
Pretzel-Potato Chip Mixture:
2 cups mini pretzels
1 cup thick potato chips – Kettle chips work well, you could get away with thin
4 tablespoons unsalted butter
1/4 cup brown sugar
Cookie Dough:
1 stick butter, softened (unsalted) – 114 grams)
1 1/4 cups packed light brown sugar (275 grams)
1 cup granulated sugar (190 grams)
1 12-ounce jar creamy peanut butter (336 grams) I used Central Market Natural
1/2 teaspoon vanilla extract (2 ml)
1/2 teaspoon salt (2 ml)
3 large eggs
2 teaspoons baking soda
4 1/2 cups quick cooking oatmeal
1/2 cup M&M's
1/2 cup semi-sweet chocolate chips
Preheat oven to 350 degrees F. Line a 13x9 inch metal pan or a rimmed cookie sheet with parchment.
Chop the pretzels in halves and thirds with a chef's knife. Don't worry about chopping them too small – I left some of mine whole. Mix the pretzels and chips together in a bowl. If you're using really big, thick chips, break them up a little. Melt the 4 T. butter in a small saucepan and when melted, add the brown sugar. Stir well and cook for a minute, then quickly pour over pretzel/chip mixture and toss to coat. Spread mixture on your lined cookie sheet and bake for 8 minutes. Let cool, then break up into pieces.
Cream the butter and both sugars in a large bowl using an electric mixer. Beat in the peanut butter, vanilla, eggs, salt. Beat well and scrape sides of bowl. Stir in the baking soda, oats, M&Ms, chocolate chips and 1 big cup of pretzel mixture, break it up slightly if you want. Also, add more if you want.
Scoop up quarter cups of dough and mold them into balls. Press lightly to make thick discs. Bake for 12-15 minutes or until they look done (edges will brown very slightly). Let stand on cookie sheet for 3 minutes, then transfer to a rack to cool.
Not sure of yield.
You can omit the extra butter and sugar from the potato chip pretzel mixture and just add regular pretzels and potato chips to the monster cookie dough. Also, the yield will vary depending on size.
Recipe by
Cookie Madness
at https://www.cookiemadness.net/2009/07/pretzel-potato-chip-monsters/