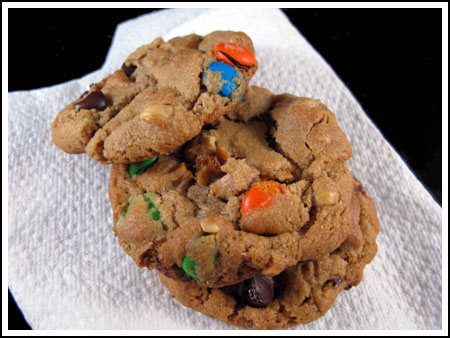 Peanut Butter and M&M Cookies
Author: Cookie Madness
Crackly peanut butter cookies with M&Ms candies
2 cups all purpose flour (270 grams)
1 teaspoon baking soda (5 ml)
1 teaspoon salt (5 ml)
8 oz (2 sticks) unsalted butter (230 grams) -- cool butter, cut up
1 cup peanut butter, smooth or crunchy (240 grams)
1 cup granulated sugar (192 grams)
1 cup dark brown sugar (210 grams)
2 large eggs
2 teaspoons vanilla extract
1/2 cup plain MMs candy
1/2 cup peanuts
1/2 cup semi-sweet chocolate chips
Preheat oven to 375 degrees. Line 2 cookie sheets with parchment paper.
Mix together flour, baking soda and salt; set aside.
Cream butter and both sugars using high speed of an electric mixer for 3 solid minutes. Beat in the peanut butter, followed by eggs and vanilla.
Stir in the flour mixture, followed by candies and peanuts.
Chill dough for about an hour. Scoop up by tablespoons and shape into balls. Bake for about 12 minutes.
-- Not sure of the yield yet – will post after I bake all the dough!
Yield is just an estimate
Recipe by
Cookie Madness
at https://www.cookiemadness.net/2009/07/peanut-butter-and-mm-cookies/