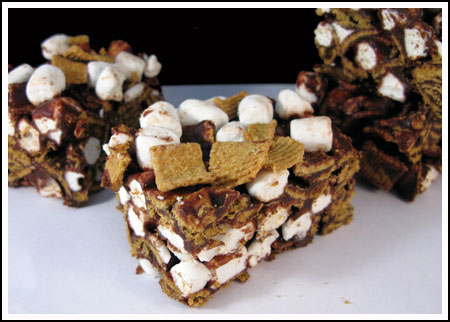 Author: Cookie Madness
Prep time: 10 mins
Cook time: 1 min
Total time: 11 mins
Indoor S'mores are a no-bake cookie made with Golden Grahams cereal.
8 cups (10 oz) Golden Grahams cereal
2/3 cup light corn syrup
2 tablespoons butter
2 cups (12 oz) milk or semi-sweet chocolate morsels
2 teaspoons vanilla extract
3 cups mini marshmallows
Extra cereal and marshmallows for sprinkling on top
Line a 9x13 inch pan with nonstick foil or line with foil and spray with cooking spray.
Pour cereal in a large mixing bowl so that it's ready to go.
Heat corn syrup and butter together in a saucepan set over medium. When mixture begins to boil, add chocolate chips, reduce heat to low or turn off completely, stir until melted. Stir in vanilla.
Pour chocolate mixture over cereal, coating it thoroughly, then fold in the marshmallows, 1 cup at a time. Press mixture evenly into a pan, sprinkling extra cereal and marshmallows on top for contrast, and then let stand until firm – about 1 hour or stick them in refrigerator so they'll firm up quickly. I did that because I was impatient, and it worked out well. In fact, I liked the bars better cold.
Slice the bars into big squares. Makes 18 to 24
You can also halve this recipe and make it in a square pan.
Recipe by
Cookie Madness
at https://www.cookiemadness.net/2009/09/indoor-smores/