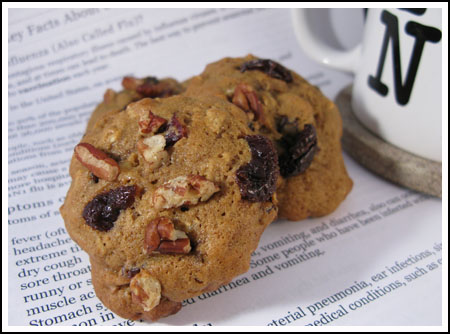 Author: Cookie Madness
Prep time: 10 mins
Cook time: 12 mins
Total time: 22 mins
Don't Cancel Your Flu-Shot Cookies
2 1/4 cups all-purpose flour (10.1 ounces)
1 1/4 tsp. baking powder
3/4 tsp. baking soda
3/4 tsp. ground cinnamon
1/2 tsp. freshly grated nutmeg
Pinch of ground cloves
1/4 tsp. salt (I used ½)
4 oz unsalted butter, room temperature
1 cup packed dark brown sugar (220 grams)
2 large eggs
1/4 cup molasses
1 tablespoon freshly grated ginger
2 tsp. finely grated lemon zest (about 1 lemon)
1/4 cup sour cream or Greek yogurt
1/2 cup old-fashioned oats
1 1/4 raisins (golden or regular)
1 1/4 cups dried cranberries
1 1/4 cups roughly chopped walnuts, toasted
Combine flour, baking powder, baking soda, cinnamon, nutmeg, cloves and salt in a bowl and stir well; set aside.
Using an electric mixer, cream the butter and brown sugar in a large bowl until light and fluffy, 3 minutes. Beat in the eggs one at a time. Beat in the molasses, ginger and lemon zest, scraping sides of bowl, then fold in the sour cream.
By hand or with lowest speed of mixer, stir in the flour mixture.
Fold in oats and half of the raisins, cranberries and walnuts. Mix the remaining dried fruit and nuts in a small bowl and set aside.
Drop heaping tablespoons of batter onto the prepared baking sheets.
Top each with some of the reserved dried-fruit-and-nut mixture and
chill for 30 minutes.
Meanwhile, preheat oven to 375. Bake the cookies until dark golden but still soft, 10-12 minutes; cool on a rack. Store in an airtight container for up to 1 week.
Recipe by
Cookie Madness
at https://www.cookiemadness.net/2009/09/22/flu-fighter-cookies/