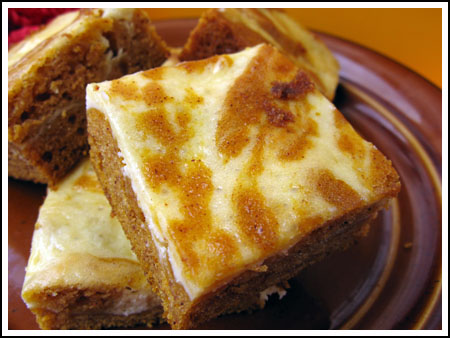 Pumpkin Cream Cheese Bars
Author: Cookie Madness
Prep time: 10 mins
Cook time: 30 mins
Total time: 40 mins
Pumpkin Cream Cheese Bars are pumpkin flavored brownies with cream cheese swirled throughout. These bars are baked in a 15x10 inch pan. For a half batch, halve each ingredient and use a 9 inch square pan.
6 tablespoons melted unsalted butter
1/4 teaspoon salt (omit if using salted butter)
1 1/2 cups granulated sugar (288 grams)
2 large eggs
1 cup canned pumpkin (240 grams)
1/3 cup water
1 3/4 cups all-purpose flour (220 grams)
1 teaspoon baking soda
1/2 teaspoon baking powder
1 1/2 teaspoons ground cinnamon
1/2 teaspoon ground nutmeg
Swirl:
8 oz cream cheese, softened
1/4 cup granulated sugar (48 grams)
1/4 teaspoon vanilla
1 large egg
Preheat oven to 350 degrees F. Line a 15x10 inch pan with non-stick foil or just spray with cooking spray.
Pumpkin Batter: Beat the melted butter, salt (if using) and sugar until smooth. Beat in the eggs, pumpkin, and water until well blended, scraping down sides of bowl as needed.
Mix flour, baking soda, baking powder, cinnamon and nutmeg together in a separate bowl; stir into batter.
Spread all but a few tablespoons batter evenly in prepared pan. Reserve the few tablespoons of batter
Swirl: In a second bowl, beat cream cheese, sugar and vanilla until smooth. Add egg and beat just until it's mixed in. Drop tablespoons of cheese mixture over pumpkin batter, then drag a knife through to make marbles. Drop reserved tablespoons of pumpkin batter over top. The reason for this is, there's a lot of white batter, so putting a few tablespoons of pumpkin batter on top gives more of a contrast.
Bake on center rack until pumpkin batter springs back when touched, about 30 minutes. Let cool completely in pan, then chill for an hour or more. Cut into 24 bars.
Recipe by
Cookie Madness
at https://www.cookiemadness.net/2009/10/pumpkin-cream-cheese-swirl-bars/