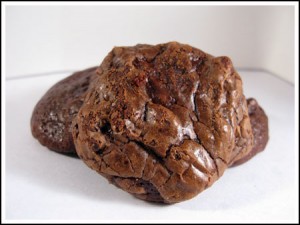 Author: Cookie Madness
Prep time: 10 mins
Cook time: 480 mins
Total time: 8 hours 10 mins
A double fudge chocolate cookie
12 ounces (70 %) bittersweet chocolate, cut into chunks
4 ounces unsweetened chocolate, coarsely chopped (114 grams)
1/2 cup all-purpose flour (65 grams)
1/2 teaspoon baking powder
1/2 teaspoon salt
4 large eggs, at room temperature
1 1/2 cups granulated sugar
1 teaspoon instant espresso powder or 1 tablespoon instant coffee crystals
2 teaspoons pure vanilla extract
1 stick (4 ounces) unsalted butter (114 grams), melted and cooled
Divide the bittersweet chocolate in half. Place half (6 oz) of the bittersweet chocolate, and the unsweetened chocolate in the top of a double boiler over, but not touching, simmering water. Heat the mixture, stirring occasionally, until the chocolate is melted and smooth. Remove from the heat. Alternatively, you can melt the chocolate in a microwave using 50% power and stirring at 30 to 60 second intervals.
Mix the flour, baking powder, and salt in a bowl and set aside until needed.
Put the eggs, sugar, coffee and vanilla in the bowl of a mixer fitted with the whisk attachment and beat at high speed for about 10 minutes, until the mixture is very thick and ribbons form as batter drips off the whisk.
Very gradually add the warm chocolate. Scrape down the sides of the bowl and work rubber spatula around the bottom of the bowl, then continue to mix just until the chocolate is incorporated. Add the melted butter. Add the dry ingredients and mix gently but thoroughly, then stir in the remaining chocolate chunks. The mixture will look like a thick, marshmallowy cake batter.
Cover the bowl with plastic and chill for several hours, or overnight (I chilled the dough for an hour). The dough can be made ahead and kept refrigerated for up to 4 days.
Baking the cookies: When you are ready to bake, position the racks to divide the oven into thirds and preheat the oven to 350˚F.
Line two large baking sheets with parchment paper.
Using a heaping tablespoon of dough for each cookie, drop the dough onto the lined sheets, leaving at least 2 inches of space between each mound of dough.
Bake the cookies for 10 to 12 minutes, rotating the pans front to back and top to bottom halfway through the baking period. The cookies will puff, then sink and crinkle and wrinkle around the edges (mine didn't sink much).
Cook time includes estimated chill time. Will vary
These cookies are better underdone than overbaked, so if you have any doubts, pull them out of the oven earlier rather than later. These shouldn't appear dry and they won't be crisp. Use a wide metal spatula to transfer the cookies to cooling racks to cool to room temperature. Repeat with the remaining dough.
Makes about 3 dozen
Recipe by
Cookie Madness
at https://www.cookiemadness.net/2009/10/double-chocolate-cookies-2/