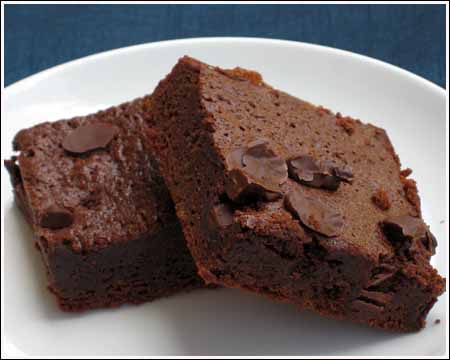 Author: Cookie Madness
Prep time: 10 mins
Cook time: 22 mins
Total time: 32 mins
I've played with this recipe over the years and it is now one of my favorites. Whipping the eggs and sugar gives the brownies a lighter texture. For fudgier brownies you can underbake them slightly (24 minutes) but I prefer them at baked for about 28 minutes.
1 cup (4.5 ounces) flour (Measure carefully)
1 teaspoon of baking powder
1/4 teaspoon salt (decrease to 1/8 if using salted butter)
5 ounces unsweetened chocolate (99%) — try to use a really good brand like Callebaut
8 ounces unsalted butter
4 large eggs or extra-large eggs (I use extra-large eggs)
2 cups granulated sugar
1 teaspoon vanilla
1/2 to 2/3 cup chocolate chips (or nuts)
Preheat oven to 350 degrees F. Line a 13×9 inch metal pan with nonstick foil.
Sift together flour, baking powder and salt; Set aside.
Melt the chocolate and butter together in a small saucepan set over low heat, stirring often. You can also do this step in a double boiler or in the microwave.
In a large mixing bowl, preferably a stand mixer fitted with a whisk, beat eggs for about a minute. Gradually add the sugar and let the mixer go for about 10 minutes or until mixer is thick and pale and falls off beater in ribbons. Beat in vanilla.
With a heavy duty scraper, fold the melted chocolate (it should be luke warm at this point) to sugar mixture. When mixture is well blended, stir in the flour mixture, then stir in the chocolate chips.
Pour into pan and bake for about 28 minutes The toothpick test doesn't really work here, but if you want to test anyway then keep in mind the toothpick should come out with chocolate on it.
Now comes the hard part! Let them cool completely.
Lift from pan, place on a cutting board and cut into large or small squares. Best served at room temperature, but they slice a little more neatly when chilled or frozen.
Every time I pull these out of the oven I worry that they are underbaked, however, having been warned in the original version from The Loaves and Fishes cookbook, 22 minutes is all you need. I have cheated and gone up to 24. The brownies seem undercooked at first, but after cooling completely and sitting in the refrigerator for at least 12 hours, they are fudgy and delicious. When I put these up in taste tests with other brownies, they usually win.
Recipe by
Cookie Madness
at https://www.cookiemadness.net/2006/08/new-york-brownies/