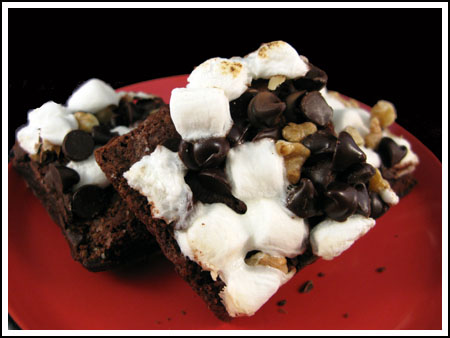 Brownie Mix Rocky Road Brownies
Author: Cookie Madness
Prep time: 10 mins
Cook time: 25 mins
Total time: 35 mins
Convenient brownie mix based rocky road brownies can be made with any brand of brownie mix. All you do is take the brownies out a little early, cover with marshmallows, chips and nuts, bake for 5 more minutes, then let cool.
1 box of your favorite brownie mix
Amount of eggs, oil and water as recommended on box
2 cups mini marshmallows
2/3 cup toasted and coarsely chopped walnuts (or other nuts)
1 1/3 cup semi-sweet or dark chocolate chips
Prepare and bake the brownie mix as directed on the package.
While brownies bake, mix together the marshmallows, nuts and a little less than a cup of the chocolate chips (you'll be saving some for the end).
About 5 minutes before the brownies are supposed to be done, sprinkle marshmallow mixture over the top. Return to oven and bake for 5 minutes or until marshmallows puff up.
Remove from oven. Sprinkle remaining chocolate chips over top of hot brownies and if you'd like, Sprinkle on some more walnuts so that everything appears balanced.
Let cool at room temperature for about an hour. Transfer to the refrigerator for another hour to set the chips.
Lift the brownies from the pan and cut into squares.
**The marshmallows get puffy and melt, but they don't really brown after 5 minutes. It's important not to keep the brownies in the oven too long because you don't want to overcook them. If you really want brown marshmallows you can throw them under the broiler for about a minute after the 5 minutes of oven cooking.
Recipe by
Cookie Madness
at https://www.cookiemadness.net/2009/11/rocky-road-brownies/