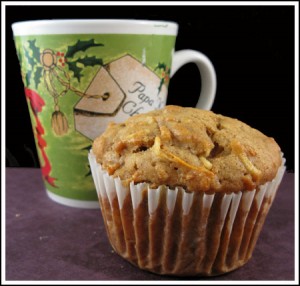 Morning Glory Muffins -- Jumbo Size
Author: Cookie Madness
Prep time: 10 mins
Cook time: 30 mins
Total time: 40 mins
Jumbo size muffins made with apples, carrots, coconut and nuts.
2 cups all purpose or white whole wheat flour (9 oz)
2 teaspoons baking soda
1/2 teaspoon salt
1 teaspoons cinnamon
2 large eggs
3/4 cup vegetable oil
1 teaspoon vanilla extract
1 cup brown sugar, lightly packed
1/4 cup milk
1 cup shredded apples
1 ½ cups shredded carrots
1/2 cup shredded sweetened coconut
1/2 cup toasted walnuts or pecans
1/2 cup raisins or dried cranberries (optional)
Preheat oven to 350 degrees F. Spray 8 jumbo muffin tins with cooking spray or line with paper liners.
Mix the flour, baking soda, salt and cinnamon together and set aside.
Whisk the eggs, oil, vanilla, sugar and milk together in a mixing bowl. Add the dry ingredients and stir once or twice (batter won't be fully blended) then add the apples, carrots, coconut, nuts and raisins.
Divide evenly between the jumbo tins and bake at 350 F for 32-35 minutes.
Recipe by
Cookie Madness
at https://www.cookiemadness.net/2009/11/morning-glory-muffins-jumbo-size/