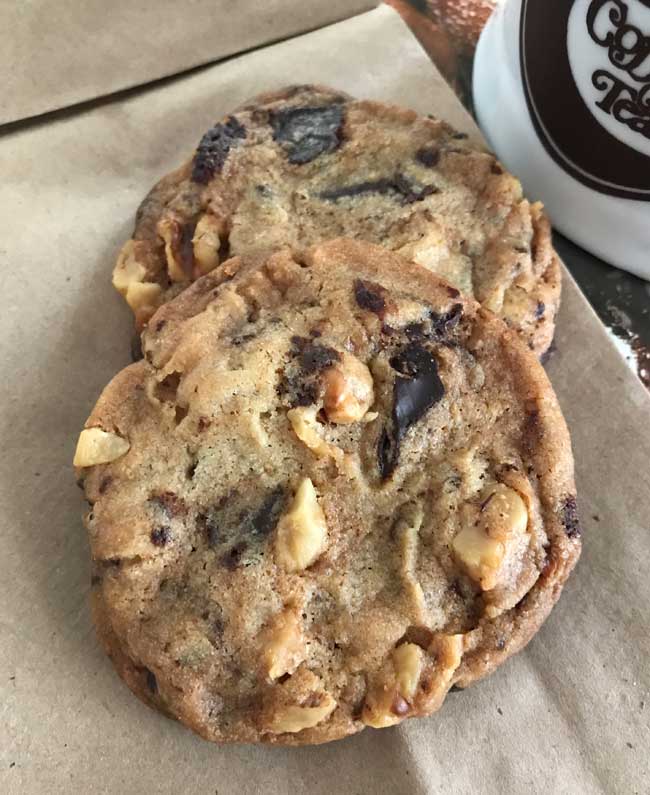 Thin and Crisp Chocolate Chip
Author: Cookie Madness
Prep time: 10 mins
Cook time: 17 mins
Total time: 27 mins
Thin and Crisp Chocolate Chip Cookies are crisp through and through. This version calls for 1 teaspoon of salt and the cookies are just slightly salty (but in a good way if you like salt). If you use salted butter, definitely cut the amount in half or use as little as 1/4 teaspoon.
14 tablespoons unsalted butter, melted (196 grams)
1 3/4 cups all-purpose flour (245 grams)
3/4 teaspoon baking soda
1 teaspoon kosher salt (1/2 teaspoon if using salted butter)
1/2 cup packed light brown sugar (100 grams)
1/2 cup sugar (100 grams)
2 tablespoons light corn syrup (36 grams)
1 tablespoon vanilla extract
2 tablespoons milk
1 1/2 cups chopped bittersweet chocolate (pea size pieces and shavings)
Generous 1 cup chopped toasted walnuts
Melt the butter in the microwave or over the stove, then set it aside to cool.
While butter is cooling, mix the flour, baking soda and salt for 1 minute to ensure that dry ingredients are fully blended.
With an electric mixer, cream the melted butter, sugars and corn syrup until fluffy, 3 minutes. Stir in the vanilla, then the milk. Add the flour mixture all at once and blend just until a dough forms. Fold in the chocolate and walnuts. Chill the dough for about an hour.
Preheat the oven to 325 degrees. Line two baking sheets with foil or if you prefer, just leave them unlined and ungreased.
Scoop up small cookie scoop size or tablespoon size balls. Place on the baking sheet and flatten to 1/4 inch-thick disks spaced 2 inches apart. Chill the dough between batches. Bake until the edges are dark golden brown, 14 to 17 minutes. Let cool slightly on the baking sheet, then transfer to a baking rack.
Recipe by
Cookie Madness
at https://www.cookiemadness.net/2006/08/15/the-case-of-the-salty-cookies/