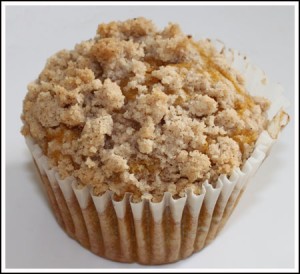 Jumbo Pumpkin Streusel Muffins
Author: Cookie Madness
Prep time: 10 mins
Cook time: 28 mins
Total time: 38 mins
Jumbo Pumpkin Streusel Muffins
1 cup of canned pumpkin
1 cup granulated sugar
1/4 cup brown sugar
6 tablespoons vegetable oil
2 large eggs
1 1/2 cups all purpose flour plus a tablespoon
1/2 scant teaspoon salt
1/2 scant teaspoon baking powder
1/2 teaspoon baking soda
1 to 2 teaspoons cinnamon (or use 2 teaspoons pumpkin pie spice and omit other spices)
1/2 teaspoon freshly ground nutmeg
1/4 teaspoon ground cloves
Topping:
2 tablespoons salted butter, softened
1/4 cup granulated sugar
3/4 teaspoon cinnamon
6 tablespoons all purpose flour
Preheat oven to 375 degrees F. Line 6 jumbo muffin cups or 12 regular with paper liners
Beat the pumpkin, sugars, oil, and eggs together in a mixing bowl.
Mix the flour, salt, baking powder, baking soda, cinnamon, nutmeg and cloves together in a second larger bowl.
Pour the pumpkin mixture into the flour mixture and stir just until well-mixed. Divide evenly among the muffin tins.
Make topping. Mix together the butter, sugar and cinnamon. Stir in the flour so that you have a crumbly topping. Sprinkle topping evenly over muffins.
Place in oven on center rack.
REDUCE OVEN HEAT TO 350degree F.
Bake for 25-28 minutes until a toothpick inserted in center comes out with moist crumbs.
If you make jumbo muffins you'll only get 6 and they will take longer to bake.
Recipe by
Cookie Madness
at https://www.cookiemadness.net/2009/12/31/jumbo-pumpkin-streusel-muffins/