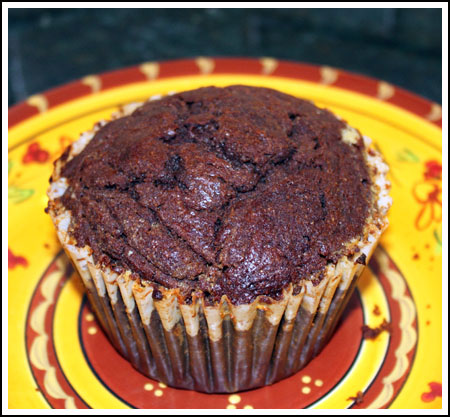 Jumbo Chocolate Muffins with Pumpkin
Author: Cookie Madness
Prep time: 10 mins
Cook time: 28 mins
Total time: 38 mins
Jumbo muffins with pumpkin for added fiber. These are really just chocolate muffins and you can hardly taste the pumpkin. Also, you don't have to make them jumbo.
1 3/4 cups whole wheat pastry flour (220 grams) – weigh or spoon and sweep
2/3 cup unsweetened cocoa powder, natural or Dutch are fine
1 teaspoon baking soda
1 teaspoon baking powder
3/4 teaspoon salt
1 1/4 cups lightly packed light brown sugar
8 oz canned pumpkin (about a cup)
2 large eggs
2/3 cup milk
1 teaspoon vanilla
8 tablespoons unsalted butter, melted and slightly cooled (or use 4 T. Butter and 4 T. Coconut Oil)
3/4 cup semisweet chocolate chips
Heat oven to 400 degrees F. Line 6 jumbo muffin cups with paper liners. If using standard size muffin tins, line about 16.
Mix the flour, cocoa powder, baking soda, baking powder and salt together in a bowl.
Stir the brown sugar around in a second bowl and mash out any lumps. Stir in the pumpkin, eggs, milk, and vanilla and mix well. Pour the dry mixture into the pumpkin mixture and stir a few strokes, then pour the melted butter in and stir (never over-beat muffin batter) until blended.
Stir in the chocolate chips.
Divide batter equally among muffin cups filling about 3/4 of the way full (not completely to the top). Put muffins in the oven and close door.
Reduce oven heat to 375 degrees F. bake for 23-26 minutes or until a toothpick or chopstick inserted in center comes out clean.
You can make these as regular size muffins as well. Check them at 18 minutes. You should get about 16 standard size muffins.
If you want an even softer muffin, swap out some of the butter for coconut oil. You could also try leaving out the butter completely and substituting a generous 1/3 cup of vegetable oil.
Recipe by
Cookie Madness
at https://www.cookiemadness.net/2010/01/jumbo-chocolate-muffins-with-pumpkin/