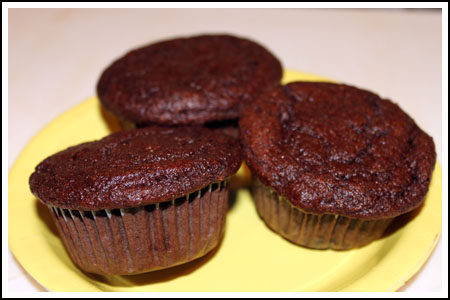 Reduced Fat Chocolate Muffins
Author: Cookie Madness
Moist chocolate muffins made with applesauce instead of butter.
1 cup unsweetened applesauce
1 cup minus 2 tablespoons whole wheat pastry flour (110 grams)
1/3 cup unsweetened cocoa powder (30 grams)
1/2 teaspoon baking soda
1/2 teaspoon baking powder
1/4 teaspoon plus a pinch of salt (3/8 tsp)
1/2 cup plus 2 T. light brown sugar, packed (110 grams)
1 large egg
3 oz Greek yogurt (the kind with 18 grams protein per 6 oz)
2 tablespoons light olive oil
3/4 teaspoons vanilla
1/4 cup semisweet chocolate chips (1 ½ oz)
Heat oven to 375 degrees F. 6 muffin cups with paper liners
Stack about 8 paper towels on the counter and pour applesauce on paper towels. Spread the applesauce around in a circle almost as wide as the towels letting the towels soak up moisture from the applesauce; Let sit for about 5 minutes. You could probably do this step in a strainer, but I did it with towels.
Meanwhile, mix the flour, cocoa powder, baking soda, baking powder and salt together in a small mixing bowl.
Scrape the drained applesauce (weight should be 5 oz, volume should now be heaping ½ cup) off the towel and place it in a second mixing bowl. Stir in the brown sugar, egg, yogurt, oil and vanilla.
Pour the dry mixture into the applesauce mixture and stir a few strokes, then add the chocolate chips and stir until blended.
Divide batter equally among 6 muffin cups, filling to the top, and bake for 20-24 minutes or until a toothpick or chopstick inserted in center comes out clean.
Makes 6
Note: Try substituting 5 oz (heaping half cup) of pumpkin or 5 oz mashed banana for the applesauce.
Recipe by
Cookie Madness
at https://www.cookiemadness.net/2010/01/06/reduced-fat-chocolate-muffins/