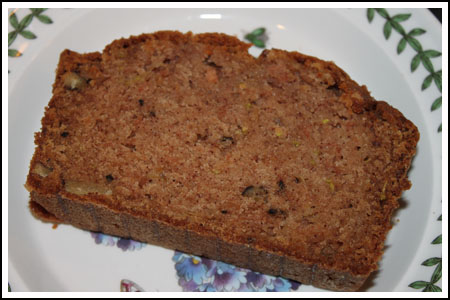 Make-Ahead Zucchini Apple Bread
Author: Cookie Madness
Total time: 1 hour 10 mins
An easy and good zucchini bread recipe you can bake and freeze
5 eggs ( large)
1 1/2 cups canola oil (I used vegetable oil)
2 cups granulated sugar
1 cup light brown sugar, packed
2 teaspoons vanilla extract
4 cups all purpose flour (18 oz)
1 tablespoons baking soda
1 tablespoon ground cinnamon
1/2 teaspoon ground nutmeg
1/2 teaspoon salt
2 cups shredded zucchini, excess moisture removed with paper towels
1 cup peeled, grated apples (Granny Smith or Cortland)
1 1/2 cups walnuts, chopped (toasted) – Next time I'd use more
Preheat oven to 350 degrees F. Spray three 8x4x3 inch loaf pans with nonstick spray Two 9x5 inch pans also works.
In a medium bowl beat the eggs, oil, sugars, and vanilla on medium speed until blended. In a large mixing bowl, combine the flour, baking soda, cinnamon, nutmeg and salt. Add the egg mixture to the large bowl and mix on low speed until just combined. Stir in the zucchini, apples and walnuts. Pour the batter equally into the 3 loaf pans. Bake for 60-70 minutes or until a toothpick inserted in the center comes out clean. Remove the bread from the pan and cool on a wire rack.
-- Freezing Directions--
When completely cooled, wrap the bread in plastic wrap and place in a labeled freezer bag. Freeze up to 2 months.
Recipe by
Cookie Madness
at https://www.cookiemadness.net/2010/01/08/make-ahead-zucchini-apple-bread/