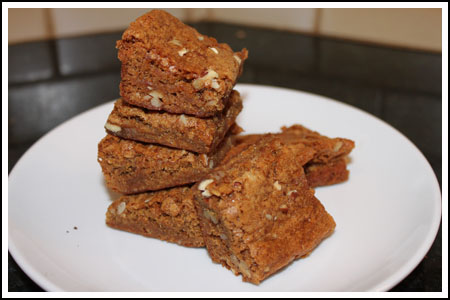 Stay-Fresh Butterscotch Bars
Author: Cookie Madness
Butterscotch blondies with added glucose syrup to keep them fresh
1 cup all-purpose flour, plus 1 tablespoon (4.8 oz)
1/2 teaspoon baking powder
1/4 teaspoon baking soda
1/2 scant teaspoon Kosher salt (Morton) – use half if using salted butter
1/4 cup unsalted butter
1/4 cup liquid glucose, the kind you find on the cake decorating aisle
3/4 cups packed light brown sugar
1/2 teaspoon vanilla extract
1 large egg
1/3 cup coarsely chopped toasted pecans
Preheat oven to 325°F and line an 8 inch square metal pan with aluminum foil. Grease foil and set pan aside.
Sift or stir together flour, baking powder, baking soda and salt; Set aside.
Melt butter over medium heat in a small saucepan. Cook just until it starts to brown, then remove from heat and transfer to a medium size mixing bowl. Let cool slightly. Add brown sugar, glucose and vanilla extract. Beat with a hand-held electric mixer on medium speed until combined. Add the egg and beat on high speed for about 3 minutes or until the egg is fully incorporated and the batter is lighter in color and texture. By hand, stir in the flour mixture and nuts; Spread in prepared pan (damp fingertips help).
Bake for 30 minutes until top is firm. Cool on wire rack. Cut into bars.
Glucose syrup can be ordered off Amazon or found in the cake decorating aisle of craft stores. It's clear like corn syrup, but very, very, thick.
Recipe by
Cookie Madness
at https://www.cookiemadness.net/2010/01/25/stay-fresh-butterscotch-bars/