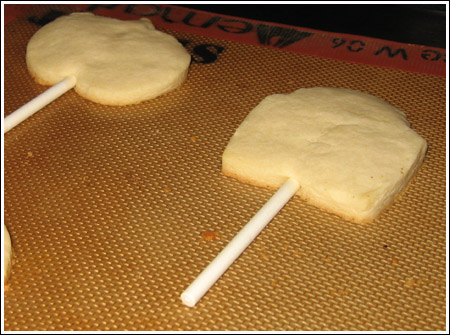 Author: Cookie Madness
Prep time: 15 mins
Cook time: 15 mins
Total time: 30 mins
This dough is great for making cookies on sticks, but it's also great for making cut-out cookies that are sturdy enough to ship and which keep fairly well.
3 cups(13.5 oz) all-purpose flour
1 teaspoon baking powder
2 sticks butter, unsalted, softened (8 oz)
1 cup granulated sugar
1 large egg
1/2 teaspoon salt
1 teaspoon vanilla extract
1/4 teaspoon almond extract
Mix together the flour and baking powder and set aside.
In a mixing bowl, beat the butter and sugar until light and creamy. Stir in the egg, salt and both extracts.
Slowly add flour mixture (1 cup at a time) and stir until incorporated
Form the dough into a disc and wrap in plastic wrap. Refrigerate for at least 1 hour.
Preheat oven to 375 degrees F. Roll the dough onto a lightly floured surface to approximately 5/8" thick. Cut the cookies into shapes and place the cut cookie shape on a parchment lined cookie; Poke a stick into cookies.
Bake the cookies for approximately 8-10 minutes or until the edges begin to turn golden brown in color. Remove cookies from the oven and allow tocool on a wire rack for 5 minutes. For larger cookies, bake at 350 F for a slightly longer time.
This recipe makes about 2 pounds or of dough. The number for cookies you get will vary depending on how big your cutters are and how thick you roll your dough. For icing, I prefer buttercream, but if you need a good royal icing this one works.

Royal Icing
1 pound confectioner's sugar
5 T meringue powder or 1/4 cup pasteurized egg whites
Ice cold water according to desired consistency and 1 teaspoon vanilla

Stir together, using as much water as needed for desired consistency
Recipe by
Cookie Madness
at https://www.cookiemadness.net/2006/10/02/cookies-on-a-stick/