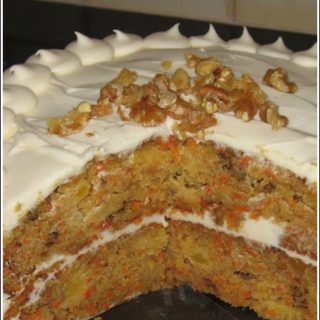 Author: Cookie Madness
Prep time: 10 mins
Cook time: 35 mins
Total time: 45 mins
A tall and stately carrot cake with coconut and pineapple. Nuts are optional!
3 cups all-purpose flour (13.5 oz)
1 teaspoon salt
1 tablespoon baking soda
2 teaspoons ground cinnamon
3/8 teaspoon freshly grated nutmeg
2 1/4 cups granulated sugar or evaporated cane juice crystals
1 1/4 cups vegetable oil
4 large eggs
1 1/2 teaspoon pure vanilla extract
3/4 cup shredded coconut, I use the sweetened kind
1 small can crushed pineapple, drained and pressed dry
2 cups grated carrots
Cream Cheese Frosting
16 oz cream cheese, softened
4 oz (1 stick) unsalted butter, softened
2 cups powdered sugar, plus more if desired
1 teaspoon vanilla extract
1/8 teaspoon salt
Preheat oven to 325 degrees. Grease and flour two 9 inch round cake pans.
In a bowl, whisk together the flour, salt, baking soda, cinnamon and nutmeg. Set aside.
In a mixing bowl, beat the sugar, oil, eggs and vanilla until well blended.
Add the flour mixture gradually. Once the flour is blended, stir in the coconut, pineapple and carrots.
Divide cake between two pans and bake for about 40-45 or until the top is brown and springs back when touched. Let cool before removing from pans.
To make the frosting, beat the cream cheese and sugar until creamy. Gradually beat in the powdered sugar, scraping bowl often. Beat in the vanilla and salt.
Taste test, and if the frosting is not sweet enough for you, add more sugar.
Recipe by
Cookie Madness
at https://www.cookiemadness.net/2006/10/moist-and-dense-carrot-cake/