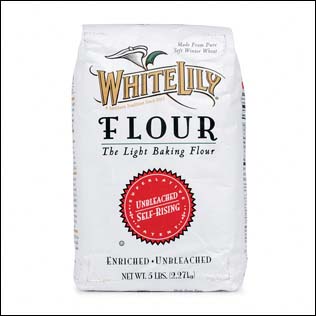 Red Velvet Cake Made With White Lily
Author: Cookie Madness
Prep time: 10 mins
Cook time: 25 mins
Total time: 35 mins
Three layer red velvet cake made with White Lily self-rising flour.
2 1/2 cups White Lily Self Rising flour
1 teaspoon baking soda
2 tablespoons natural unsweetened cocoa powder (use natural rather than dark or Dutch)
1 1/2 cups granulated sugar
1 1/2 cups vegetable oil (I used 1 1/3)
1 teaspoon vanilla
1/2 teaspoon butter flavoring (optional)
1 1/2 oz red food coloring
1 teaspoon vinegar
1 cup buttermilk, room temp
2 eggs, room temp
Frosting
4 ounces butter, softened
16 oz cream cheese, softened
2 1/2 cups sifted powdered sugar**
2 t. vanilla
2 teaspoons fresh lemon juice
Preheat oven to 350 degrees F. Spray three 9 inch cake pans with flour-added cooking spray or grease and flour and line with parchment rounds.
Sift together self-rising flour, baking soda and cocoa powder. Set aside. In mixing bowl, stir together sugar, oil, vanilla and butter flavoring (if using). Using an electric mixer, beat in eggs, one by one, beating 30 seconds after each egg. Stir in red coloring and vinegar. If you are using a stand mixer, remove bowl from stand at this point.
By hand, stir in half of the flour mixture. Slowly stir in all of the buttermilk. Stir in remaining flour mixture. Stir until fully incorporated and batter is smooth. You could also use low speed of mixer - I just prefer doing this by hand. Pour into cake pans. Bake for 25 minutes or until cake springs back lightly when touched and toothpick inserted comes out clean (test your cake when it starts to smell).
Let cool in pan for 10 minutes, then flip onto a cooling rack and cool completely.
Prepare frosting. Beat together softened butter and cream cheese, stir in sugar, then beat until fluffy and light. Beat in vanilla and lemon juice. This frosting is not terribly sweet, so feel free to add more sugar as desired. I like a strong cream cheese flavor.
Recipe by
Cookie Madness
at https://www.cookiemadness.net/2006/11/04/red-velvet-cake-made-with-white-lily/