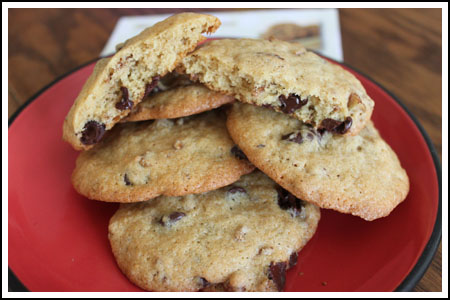 Author: Cookie Madness
Prep time: 10 mins
Cook time: 15 mins
Total time: 25 mins
A healthier version of chocolate chip cookies. I called it "American Style" because it has a mixed grain flour and some bran cereal thrown in.
1 1/4 cups sifted whole grain flour (or white whole wheat) – 5.25 oz
1/2 teaspoon baking soda
1/4 scant teaspoon salt
6 tablespoons unsalted butter, cool
6 tablespoons granulated sugar
6 tablespoons brown sugar, firmly packed
1 large egg
1/2 teaspoon vanilla
2 tablespoons hot water
1/4 cup (slightly heaping_ All Bran Original)
1/3 cup chopped, toasted nuts (I used pecans)
2/3 cup semi-sweet chocolate chips or bittersweet chocolate chips
Preheat oven to 375 degrees F.
Stir together flour, soda and salt. Set aside.
Beat together butter and sugars until light and fluffy. Add egg and vanilla. Beat just until mixed. Mix in hot water. Add cereal, flour mixture, nuts and chocolate morsels, mixing until combined. Drop by teaspoon onto greased or parchment lined baking sheets.
Bake at 375°F about 15 minutes or until golden brown. Remove from baking sheets and cool on wire racks. Store in airtight container.
Recipe by
Cookie Madness
at https://www.cookiemadness.net/2010/03/chocolate-chip-cookies-with-whole-grain-flour-bran-and-flavor/