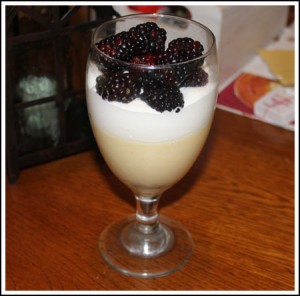 Custard with Whipped Cream and Blackberries
Author: Cookie Madness
Prep time: 10 mins
Cook time: 10 mins
Total time: 20 mins
Vanilla custard recipe which is best served cold with whipped cream and some kind of fresh fruit such as blackberries.
Custard:
6 tablespoons granulated sugar
2 3/4 tablespoons all-purpose flour
Pinch of salt
2 large egg yolks
1 cup milk, room temp or warmed in microwave (I used 2%)
1/2 teaspoon vanilla extract
1 teaspoon unsalted butter
Topping:
1/2 cup whipping cream
1 tablespoon sugar (you can use a little less if you like)
1 cup fresh blackberries
Combine first 3 ingredients in a heavy saucepan not set over heat; whisk in egg yolks and whisk in about 1/3 cup of the milk. Set over medium heat and gradually whisk in the remaining milk, whisking constantly until thickened -- original recipe said 5 to 7 minutes, but mine thickened in about 3 since it was a half batch. Remove from heat. Whisk in vanilla and butter. Divide evenly among 2 or 3 wine glasses; cool. Cover and chill 2 hours or until ready to serve.
Before serving, beat whipping cream at medium speed with an electric mixer until foamy; gradually add sugar, beating until soft peaks form. Spread over custard. Top with fresh blackberries.
Chill time not reflected in prep or cook time.
Recipe by
Cookie Madness
at https://www.cookiemadness.net/2010/04/custard-with-whipped-cream-and-blackberries/