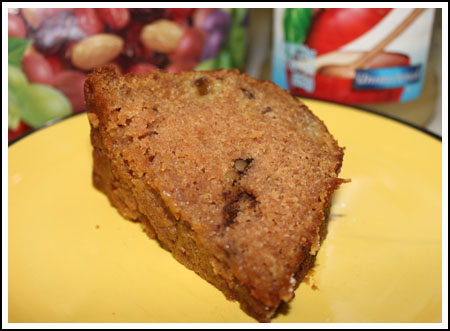 Author: Cookie Madness
Prep time: 10 mins
Cook time: 45 mins
Total time: 55 mins
Lunchbox Applesauce Cake is a basic applesauce Bundt cake with raisins.
2 1/4 cups (280 grams) all-purpose flour, measured after sifting
2 teaspoons baking soda
3/4 teaspoon salt
1 teaspoon cinnamon
1/8 teaspoon freshly grated nutmeg
4 oz (114 grams) unsalted butter, room temperature
2 cups (400 grams) firmly packed light brown sugar
2 large eggs, (room temperature)
1 teaspoon vanilla
2 cups applesauce
1/2 cup golden raisins (or use a mix of regular and golden)
1 cup walnuts, chopped and toasted
Powdered sugar, optional
Preheat oven to 350 degrees F or 325 if using a black Bundt pan.
After you've sifted the all purpose flour and measured out 2 ¼ cups, mix it with baking soda, salt, cinnamon and nutmeg.
Grease the pan with shortening and dust with flour or spray with flour-added cooking spray.
Beat the butter until creamy. Add the brown sugar and continue mixing. Add the eggs, 1 at a time, and vanilla, then mix until well blended and fluffy.
Add applesauce to the creamed mixture and stir well, then gently stir in the flour mixture, scraping batter up with a rubber scraper to ensure it's incorporated. Fold in the raisins and walnuts. Pour batter into prepared pan and bake 45 minutes or until cake tests done.
Let cool in pan for 10 minutes, then turn on to a wire rack to finish cooling.
Recipe by
Cookie Madness
at https://www.cookiemadness.net/2010/04/14/lunchbox-applesauce-cake/