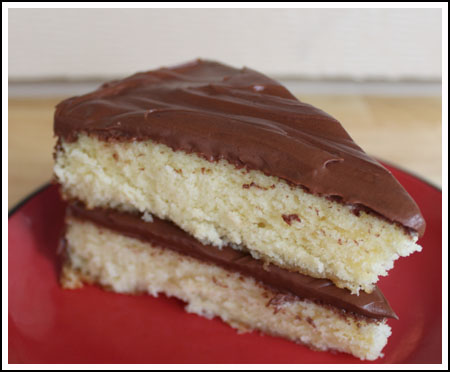 Yellow Cake Inspired by Shirley C.
Author: Cookie Madness
Prep time: 15 mins
Cook time: 23 mins
Total time: 38 mins
Moist Yellow Cake adapted from a recipe by Shirley Corriher
1/2 cup heavy cream
1 3/4 cup cake flour (7 oz)
1 3/4 teaspoon baking powder
1 1/2 cup granulated sugar
1/3 cup boiling water
4 tablespoons unsalted butter cut in 1 tbsp pieces
2 teaspoon pure vanilla extract
1/2 teaspoon salt
1/3 cup vegetable oil
3 large egg yolks
2 large eggs
Preheat oven to 350 degrees F. Spray two 9-inch round pans with flour-added baking spray and line bottoms with rounds of parchment. For a taller cake, use 8 inch pans.
Put a stand mixer bowl and whisk attachment (or regular bowl and beaters) in the freezer to chill for about 5 minutes.
Take out the chilled mixing bowl and whip the cream just a little beyond soft peak stage. Scrape it out of the bowl and set it aside.
Thoroughly mix flour and baking powder in a bowl and set side.
Put the mixing bowl back onto the stand mixer (no need to rinse) and add the sugar. Add the hot water to the sugar and beat a few seconds to dissolve the sugar, then add the butter, vanilla, and salt. Add the oil and mix on medium speed to blend. Sprinkle about 1/3 of the flour mixture over the sugar mixture. Stir by hand -- I do this with a heavy duty scraper. Continue adding the flour until all is incorporated. By hand stir in the egg yolks one at a time, and then stir in the whole eggs one at a time. Fold a little of the whipped cream into the batter to lighten, then fold in the rest.
Pour the batter into pans. Drop the pans onto the counter a few times to get out any bubbles. Bake for about 20-23 minutes, checking at 15 minutes.
Frost with your choice of frosting.
Recipe by
Cookie Madness
at https://www.cookiemadness.net/2010/04/yellow-cake-inspired-by-shirley-c/