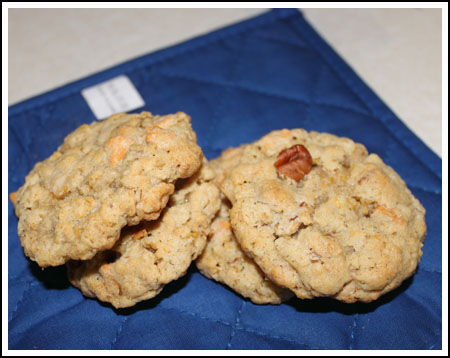 Cheri's Butterscotch Rangers
Author: Cookie Madness
Prep time: 10 mins
Cook time: 12 mins
Total time: 22 mins
Cheri's Butterscotch Rangers
1 cup (8 oz) unsalted butter, at room temperature (230 grams)
1 cup granulated sugar (200 grams)
1 cup brown sugar, firmly packed (200 grams)
2 large eggs
2 teaspoons vanilla extract
1 tablespoon water
2 cups all-purpose flour (9 oz/250 grams)
1 teaspoon baking soda
1/2 teaspoon baking powder
1/2 teaspoon salt
2 cups regular or quick-cooking oatmeal (I used quick cooking, not instant)
2 cups butterscotch morsels
2 cups Corn Flakes, Grapenuts Flakes or 2 oz crushed Corn Chex
1 cup chopped nuts (toasted pecans), optional
Preheat oven to 350 degrees F. Grease two cookie sheets or line with parchment.
Beat the butter until creamy. Add the granulated and brown sugars and continue beating for about -5 minutes. Beat in the eggs, one at a time and beat for another minute, then beat in the vanilla and the water.
Thoroughly mix together the flour, baking soda, baking powder, and salt in a second bowl. Add the flour mixture to the butter mixture and well. Add the oatmeal, butterscotch morsels, cornflakes and nuts and mix until well combined.
Place heaping teaspoons of batter about 2 inches apart on the prepared baking sheets or shape the dough into 1 inch balls. With moistened fingertips, gently press each cookie to flatten it slightly. Bake the cookies until lightly browned, about 12 minutes. Transfer to racks to cool completely.
Makes about 80 cookies.
Recipe by
Cookie Madness
at https://www.cookiemadness.net/2010/04/17/cheris-butterscotch-rangers/