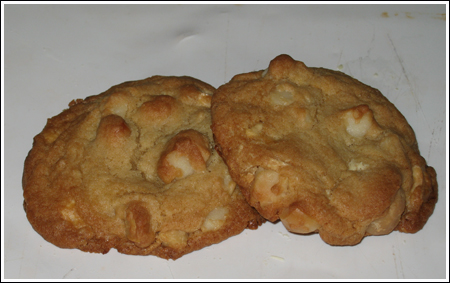 Masterpiece White Chocolate Macadamia
Author: Cookie Madness
Prep time: 10 mins
Cook time: 13 mins
Total time: 23 mins
Masterpiece White Chocolate Chunk Cookies
2 sticks (230 grams) unsalted butter, (16 tablespoons)
1 cup packed brown sugar
1 cup granulated sugar
2 large eggs
1 teaspoon vanilla
2 tablespoons Bailey's Irish Cream or non-dairy creamer
3 cups cake flour (or sub, see bottom)
1 teaspoon baking soda
1/2 teaspoon salt (3/4 teaspoon if using unsalted butter)
1 cup chopped macadamia nuts, lightly toasted before chopping
9 ounces chopped up white chocolate
Preheat oven to 375 degrees F.
In a mixing bowl, cream butter and both sugars. Beat in eggs, vanilla and Baileys (or creamer).
Stir together cake flour, baking soda and salt. Stir in nuts and white chocolate.
Drop dough by rounded tablespoons onto a parchment or nonstick foil lined baking sheet. Bake for 11-13 minutes.
For every 2 cups of cake flour, use 1 3/4 cups all-purpose and 1/4 cup cornstarch. In this case, that would be 2 2/3 cup all-purpose plus 6 tablespoons of cornstarch.
Recipe by
Cookie Madness
at https://www.cookiemadness.net/2006/12/masterpiece-white-chocolate-macadamia/