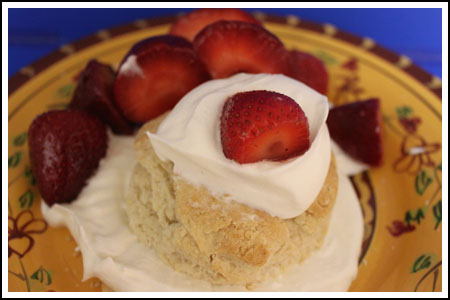 Strawberry Shortcake with Sour Cream Biscuits
Author: Cookie Madness
Prep time: 20 mins
Cook time: 29 mins
Total time: 49 mins
Traditional southern style recipe for strawberry shortcake served on fluffy biscuits.
Strawberries
1 pound strawberries, trimmed of stems and sliced
2 teaspoons of sugar
Biscuits
4 tablespoons unsalted butter, melted and cooled
1/2 cup sour cream at room temperature
1/3 cup whole milk, plus a little more if needed, room temperature
1 1/2 teaspoons sugar
2 1/4 cups self rising flour (fluff up and spoon, don't pack)
Whipped Cream
3/4 cup heavy whipping cream
1/2 to 1 tablespoon granulated sugar
1/4 teaspoon vanilla
Toss berries with sugar, cover and refrigerate for a few hours or until you are ready to make the cakes.
Prepare Biscuits (Makes 6)
Mix the cool melted butter, sour cream, milk and sugar together in a mixing bowl. Add all but 2 tablespoons of the flour and stir just until it's barely mixed in – if batter seems too sticky, add the rest of the flour. I used all of it and my dough was dry, but the biscuits were still good. Squish mixture with your hands until it comes together, but don't overwork it. Dump onto a cutting board or flat surface and shape into a plank about 3/4 inch thick. Using the top of a glass or biscuit cutter, cut out biscuits. Place on baking sheet and bake at 400 for about 12-16 minutes or until biscuits seem done. Let cool.
Whipped Cream
In a chilled mixing bowl using chilled beaters, whip the cream until soft peaks form. Beat in the sugar and vanilla and beat until peaks are stiff
Assemble! Slice the biscuit, rub a little whipped cream on the cut side, spoon strawberries over whipped cream, top with more whipped cream and more strawberries or top with the other half of the biscuits. I gave everyone half a biscuit and that was fine. The rest of the biscuits went in the freezer.
1 cup of self rising flour is equal to 1 cup of flour, 1 1/2 teaspoons of baking powder and 1/2 teaspoon of salt for every cup of flour. This recipe calls for 2 1/4 cups cups. You can use 2 cups of flour, 1 tablespoon baking powder and 1 teaspoon of salt. This will give you a total of 2 cups plus a little over a tablespoon of self-rising flour. Throw in about 3 more tablespoons of flour as needed and don't worry about using more baking powder or salt.
Recipe by
Cookie Madness
at https://www.cookiemadness.net/2010/04/strawberry-shortcake-with-sour-cream-biscuits/