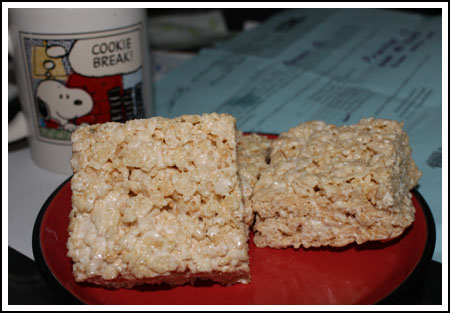 Rice Krispie Treats with Browned Butter
Author: Cookie Madness
Rice Krispies treats made with browned butter. Peanut butter is optional.
4 tablespoons butter (salted) or use unsalted butter and add a pinch of salt when melted
1 (10 oz ) package big marshmallows or 4 cups of the small type
1/4 cup peanut butter (optional)
5 cups Rice Krispies cereal
Have ready an 8 inch square metal pan. In the past I've used a 9 inch square or 13x9 inch, but I like the look of tall krispie treats, so these days I use an 8 inch pan.
Rub a very large, light colored stainless steel saucepan or Dutch oven with butter to prevent sticking. Set over medium heat and melt the butter until it just starts to brown. This will happen at a different rate of speed depending on your stove. If it starts browning too quickly, remove from heat, swirl the pan, and put the butter back on at a very much reduced heat. Be careful not to burn it.
Stir in the marshmallows and reduce heat to low. Stir marshmallows until they begin melting. When melted, add the peanut butter (if using) and cereal and stir until coated.
Transfer mixture to pan and press down with a piece of greased foil or parchment. Let the treats cool completely then lift them out of the pan, place on a cutting board and score into giant size squares.
Serving size will vary depending on how big you cut them.
Recipe by
Cookie Madness
at https://www.cookiemadness.net/2010/04/rice-krispie-treats-with-browned-butter/