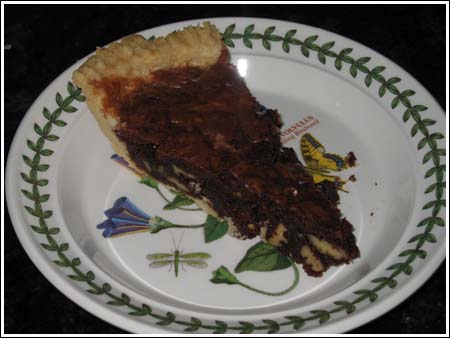 Author: Cookie Madness
Prep time: 10 mins
Cook time: 45 mins
Total time: 55 mins
Z Tejas' Chile Fudge Pie
2 teaspoons pureed ancho pepper (see directions below)
2 sticks butter, salted (if using unsalted, add 1/4 tsp. salt)
1 cup mixed nuts, (walnuts and pecans) toasted
2 eggs
1/2 cup granulated sugar
1/2 cup brown sugar
1/2 cup flour
1 cup semi-sweet or bittersweet chocolate chips
1 9 inch unbaked pie shell
First, make your ancho puree. Remove seeds and stem from one ancho chile. Put it in a saucepan with about 2 inches of water and bring to a boil. Reduce heat and simmer until ancho is tender. Place in a food processor to puree.
Melt butter and let cool to warm - do not let it cool completely. It needs to be warm enough to melt the chips when you add them.
In a small mixing bowl, beat eggs well. Beat in both sugars, then add flour and stir until smooth. Add warm butter, chocolate chips, chile puree and nuts. The warmth of the butter should melt the chips (in my case, it melted most of them).
Pour filling into unbaked crust and bake at 325 degrees F. for 45 to 60 minutes (mine took 45) or until done. Let cool completely.