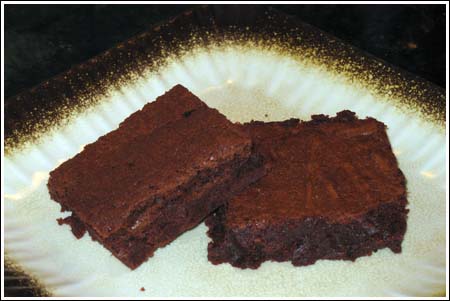 Author: Cookie Madness
Prep time: 10 mins
Cook time: 30 mins
Total time: 40 mins
Giant Brownies made with unsweetened chocolate
12 tablespoons butter, I used salted -- if using unsalted, about 3/8 tsp salt
5 oz unsweetened baking chocolate, cut into pieces
1 3/4 cup granulated sugar
2 teaspoons vanilla
3 large eggs
1 cup (4.5 ounces) all-purpose flour, stir well and measure carefully if you don't have a scale
Preheat oven to 350 degrees F. Line a 9 inch square pan with nonstick foil or line with regular foil and spray foil with cooking spray.
Place butter and cut-up chocolate in a microwave-safe bowl; Microwave on high for 30 seconds. Stir. Continue microwaving and stirring every 30 seconds until mixture is melted. Set aside and let cool for 5 minutes.
In a second bowl, beat sugar, vanilla, and eggs with electric mixer on high for a full 5 minutes. Stir melted chocolate mixture into egg mixture. When chocolate is incorporated, stir in flour. Pour into pan and bake for 30 minutes. Cool on a wire rack. For a cleaner cut, chill the brownies before cutting.
When cool, grasp foil, lift from pan, place on a cutting board and cut brownies into big squares.
Recipe by
Cookie Madness
at https://www.cookiemadness.net/2007/02/giant-brownies/